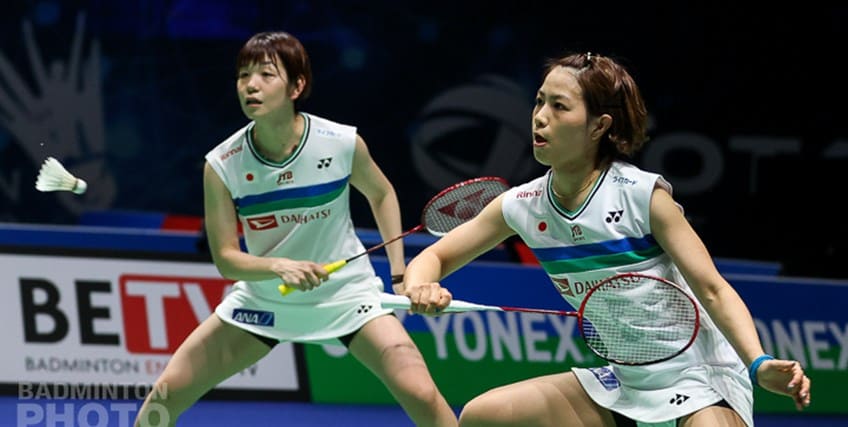 All-Japanese final awaits in women's doubles
It's great when a plan comes together and that's exactly what has happened for Japan in the women's doubles.
Yuki Fukushima and Sayaka Hirota have looked the class of the field in defence of the title they won in 2020, and were simply too much for Dutch duo Selana Piek and Cheryl Seinen in the semi-final.
But it was not a win without issues and the top seeds admitted they found it hard in the early stages of their 21-17 21-7 victory, wrapped up in 50 minutes.
"Actually we couldn't move well in the beginning," said Fukushima.
"We struggled to receive the cross court shots from the opponents but we stayed calm and stuck to our game plan. It's our fault that we started slow and nothing to do with the court conditions."
In the other semi-final, second seeds Mayu Matsumoto and Wakana Nagahara got the better of compatriots Nami Matusyama and Chiharu Shida.
The pairs, who train together, played out a series of punishing long rallies albeit the 2018 and 2019 world champions didn't always get their way in the extended exchanges.
Matsumoto and Nagahara showed ominous signs of their intent to avenge defeat in the YONEX All England final two years ago
"We played better today compared to yesterday's match," said Matsumoto.
"Our tactics during the long rallies weren't very good, so we have to fix that for tomorrow."
The pairs set to duke it out in tomorrow's final have met on 11 previous occasions, and the head-to-head is split 6-5 in the favour of Matsumoto and Nagahara.
Their last clash was a bruising encounter in the final of October's Denmark Open that went to three games, and eventually the way of Fukushima and Hirota. Tomorrow's match simply looks too close to call.
"This is our second All England Open final, we didn't win the last time so we will definitely try to win tomorrow," said Matsumoto.
"The All England is one of the most prestigious and it's one of our goals to win here."
Nagahara added: "We've played in the Denmark Open final, they know our tactics and knew they will be focused on defeating us. Tomorrow's game will have long rallies so we will prepare for a good match."
Fukushima said: "We know both players very well tactically and we know it will be a long match, so we just have to focus on our game."