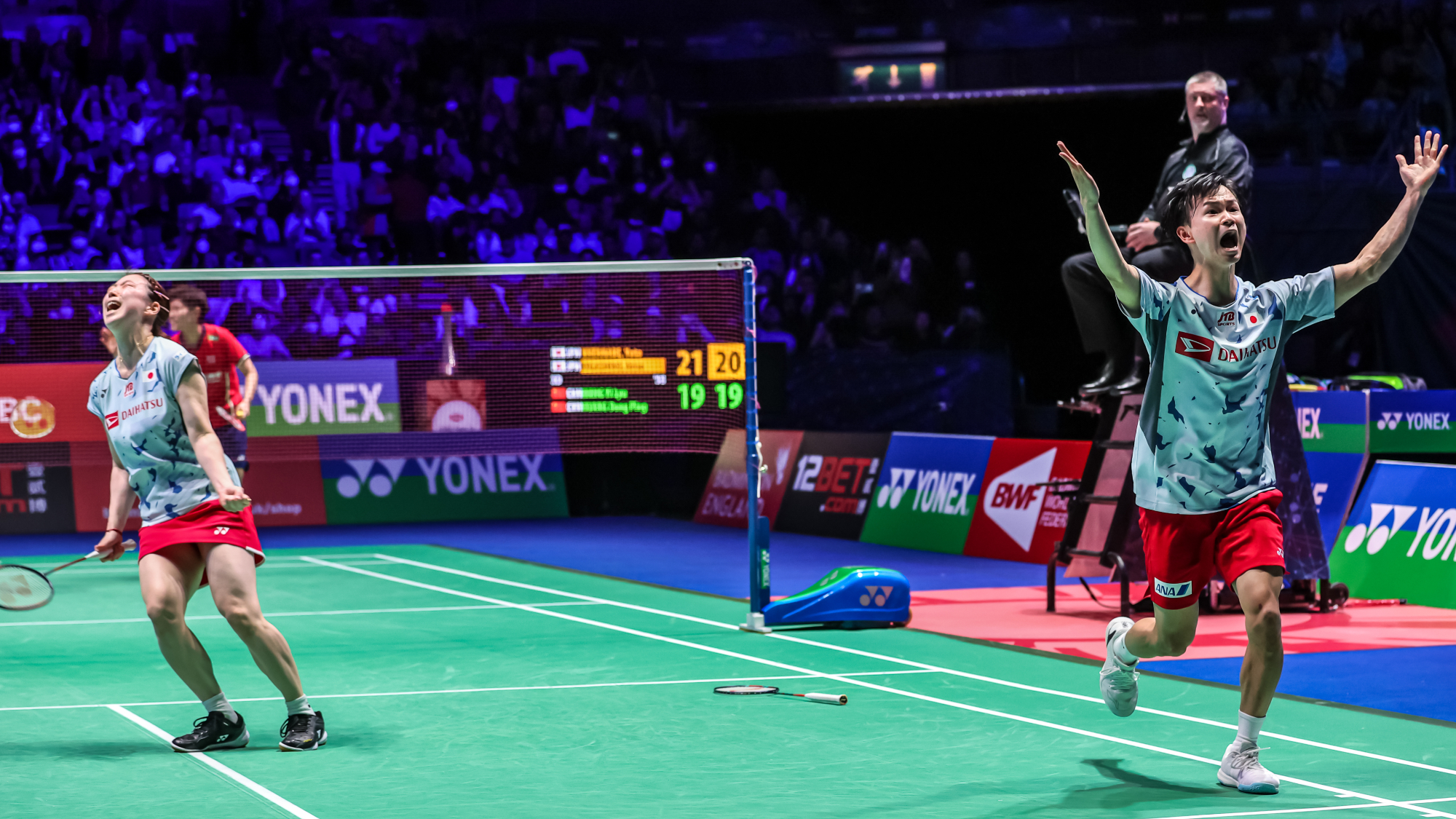 All-time YONEX All England classic favours Watanabe and Higashino
Yuta Watanabe and Arisa Higashino won their third YONEX All England title after an all-time classic mixed doubles final win over Wang Yi Lyu and Huang Dong Ping.
The pairs had met 12 times before and the Chinese won ten of them, including the Olympic semi-final, with it being nearly impossible to prise an error out of the Tokyo gold medallists.
In front of a bulging Utiilita Arena Birmingham crowd, it was a different story this time as Higashino played the match of her life to prevail 21-19, 21-19 and retain their title.
Higashino said: "We were really happy to get to the final in front of an amazing crowd. Their support really was on our side and we gave them tremendous strength.
"We could see that Wang Li Yu was quite tired and we tried to target him. I'm happy to win such a historic tournament in our favourite arena and be on the podium.
Watanabe is one of the biggest x-factor players in the global game and he has now won five All England titles, pulling level with the legendary Lin Dan and Gao Ling.
He added: "I'm not as good as those guys, my intention is to get as close as possible to them. In order to achieve that, I will try to stay humble and keep aiming higher. I would like to win more All Englands in the future.
"In the first and the second game, we were behind but we never gave up and managed to catch up with them. That was the winning factor."
Three of the pair's four Super 1000 victories have come at the sport's oldest and most prestigious tournament. Clearly there is something about the All England when it comes to these two.
The lead ebbed and flowed throughout, with Watanabe's basketball-style soaring smashes aimed squarely at Huang Dong Ping's defence that held firm for long periods.
The Chinese made the running in the opening game but Watanabe and Higashino timed their offensive perfectly, winning five of the last six points to claim the first set.
The second set reached fever pitch with a 53-shot rally that was won by the Chinese and a flashpoint when Huang was called for a service fault in the latter stages, a decision to which she showed open distain.
Again, Watanabe unleashed his fulminating overhead smashes to force errors and hit winners in the latter stages, converting an 18-17 deficit into a surprise victory in straight sets. 
Huang said: "We were quite surprised about the result but not upset. Our physical and mental condition wasn't the best, so we really want to improve that.
"We're getting there and we want to do it better next time."
We welcomed fans back to the YONEX All England Open Badminton Championships this year. Now we want to welcome you back onto court. For more information and to find a court near you, visit: The Time Is Now | Badminton England