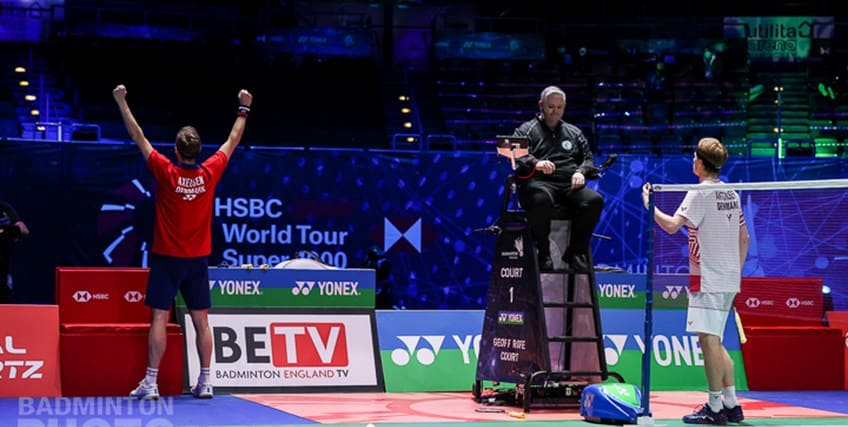 Axelsen and Antonsen: Similar, but only one winner
Both Danes, both right-handers, seeded right next to each other for this tournament in second and third position.
Viktor Axelsen v Anders Antonsen, even their head-to-head read 3-3 before today. What a finish to a cracking Yonex All England semi-finals day.
Axelsen at 1.94 metres tall, Antonsen 1.83 metres -similar physical specimens too – especially when compared to the Asian-dominated and generally smaller in stature rest of the singles draw.
In the first set, Axelsen went 3-0 up, then Antonsen pegged it back to 3-3, 5-5, Antonsen then led until 10-10 before Axelsen pinched it prior to the interval-11-10 to the second seed.
Antonsen, the younger of the two, roared back again to take the first set 21-16.
There was very little chat on court, no need for pleasantries, little chat with coaches or umpires throughout the match, just two men, each on a separate individual mission to usurp their national teammate and now rival.
Last year's men's singles champion here won the first point of the second game, and from here, Axelsen roared on further, never again relinquishing the lead until the second set was clinched 21-7. He was as much as 11-2 up at the interval. Where before he gave Antonsen a chance of retrieval, now each smash seemed to find the middle of his racket.
This middle set drew parallels with their meeting in the HSBC BWF World Tour Finals less than two months ago. Antonsen beat Axelsen in three sets, but the middle set saw Axelsen win to just five. Antonsen was happy to gift the taller man a token set and concentrate all his efforts on the final game.
Like the first, the third set went to 3-3, and to 5-5, at this point Antonsen's game plan was seemingly working. This time he led at the interval too; 11-6.
Though yet again the 2016 Olympic bronze medallist Axelsen roared back, from 14-13 he established his lead, 18-15, then took his first match point with an unchallenged Antonsen error to win 21-17.
Axelsen sealed his spot vs Kento Momota's victor Lee Zii Jia, the sixth seed from Malaysia, for the final tomorrow.
After 21 long years without a Danish men's singles champion, Axelsen broke the duck here last year. He could tomorrow clinch consecutive men's singles titles in Birmingham's most prestigious of tournaments. Whilst Anders Antonsen retired hurt in the semi-finals last year, so there's semi-final heartbreak again for the 23-year-old from Aarhus.