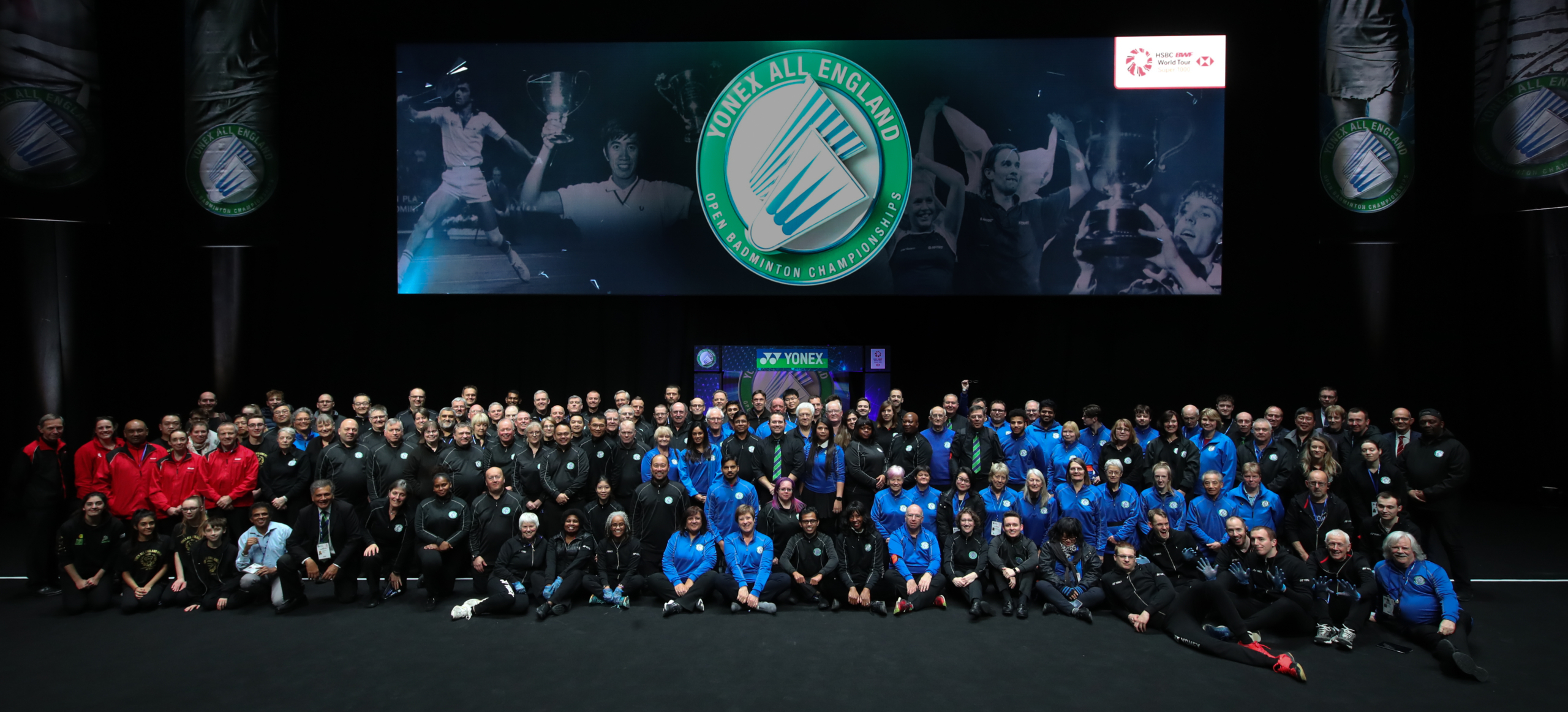 Behind the scenes at the YONEX All England
The YONEX All England Open may be renowned for world-class action on the court but the dedicated and tireless efforts of those keeping the event going off it cannot be overlooked.
This year's Championship, which runs from March 16-20 at Birmingham's Utilita Arena, will again welcome an array of staff and volunteers in a wide range of roles to help the competition run smoothly for players, officials, broadcasters and – for the first time since 2020 – spectators.
Helping select and allocate the volunteers is Jon Hancock, Badminton England's Competitions and Events manager, who is currently preparing to welcome the latest cohort of new and returning individuals for a busy period.

"It's quite intensive," he said. "Not including the officials, we're looking at around 120-130 volunteers this year and in the past, with everyone included, it's got up to around 250.
"We have a very committed workforce and a number of regular faces who create a family feel.
"It's a wonderful group of people we get together. They come from across the country and give their time to deliver one of the best international events on the calendar."
Hancock grew up playing badminton at county level and is preparing for his sixth YONEX All England on the Badminton England staff, the past three of which have seen him managing volunteers.
"There's nothing quite like seeing the other side of the sport being delivered, certainly behind the scenes seeing the amount of work that goes into hosting the All England," he added.
"It's an incredible experience and we look forward to seeing everyone come back and enjoy being together.
"We get volunteers who are not necessarily badminton people but they become part of the family and love the event. It's incredibly special.
"On finals day when you get massive crowds in, the biggest names, that last shuttle goes down and you can take stock of what you've been able to achieve. There's a massive sense of pride."
Someone Hancock stays in regular contact with through YONEX All England week is Gaye Jackson, the leader within the Field of Play Entry team.
Jackson has been ever-present since the Championship moved to Birmingham in 1994 and, along with her team, is responsible for liaising with officials, players and broadcasters to ensure the competing players take to the court at the right time.
"It can be extremely challenging," she said. "Players initially warm up downstairs in the arena, which is down six flights of stairs!
"We need to make sure they are up in the final warm-up area at the right time, and it can be challenging when you are waiting on a match which looks like it will finish in two games but then goes to three, or vice-versa.
"But the players are very professional and know what they want to do – our job is to facilitate preparing them to get on to court.
"It always feels like coming home to a family. I know most of the people who work there, as do my team, and a lot of people appear to want to work in our team because there is that player contact.
"They know they've not to ask for photos or autographs but they do get to talk to all the players. Some of the players are exceedingly polite and they remember you, which is always nice."
Happy #VolunteerRecognitionDay!

We're not biased, but we officially have the *best* volunteers in the world 🤩

Can't wait to see you all soon!#YAE20 pic.twitter.com/jJ4FpOMe0A

— 🏆 Yonex All England Badminton Championships 🏆 (@YonexAllEngland) April 20, 2020
Mel Wyatt also sees the players and their entourages at close quarters in his role as team leader within the Venue Access (Stewarding) programme.
Wyatt is looking forward to his 12th Championship as part of the workforce and will again play a vital role in protecting the backstage and players' areas around the arena.
"I've always gone to the All England as a spectator and in around 2009 I first applied to be a steward," he said.
"I thought 'I'll just help out and also get to see some of the event.' But it is more than that – you make lifelong friends.
"When July comes round each year and we are starting to think about the organisation, my anticipation starts to build.
"I get in touch with people I've not spoken to for a year and when you do that you know it's not far away.
"I always really look forward to the event, just to see everybody again as well as the actual badminton."
Wyatt has also had a couple of particularly memorable interactions with some global stars through his role at the Championship.
"I remember Lee Chong Wei telling his manager that me and my deputy were his bodyguards," he said. "That gave us a laugh.
"And Viktor Axelsen winning (in 2020) was a real highlight.
"His father Henrik had a bottle of champagne inside the arena and backstage he was handing me a plastic cup of bubbly to celebrate with Viktor! That really stands out."
The YONEX All England Open Badminton Championships return to Utilita Arena Birmingham with the best players from around the world from 16th – 20th March 2022.
Don't miss out, get your tickets today.