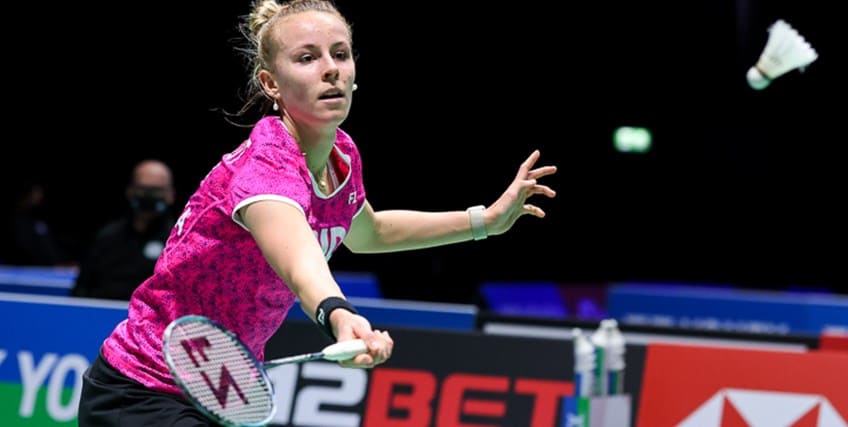 Blichfeldt's big changes bear fruit at YONEX All England
It's a very different Mia Blichfeldt competing at the YONEX All England Open this year. When COVID-19 hit, the bubbly Dane decided to hit a hard reset button off the court. She knew lockdown would slow her down and embraced a more considered lifestyle. Blichfeldt uninstalled her social media apps, took up knitting and started applying for courses to study business and psychology at university in Denmark.
"The last year has been a personal development journey for me," said the 23-year- old after her second round victory. "I have found a lot of things off the court to use more energy on. It's important for me on court to have something else to focus on. She continued: "I'm very happy to have started some education. That's a choice that I took, not something I have to do so that gives me a positive energy."
"They hurt me, but they hurt her too" Blichfeldt has harnessed that energy and let rip with racket in hand in Birmingham this week. After progressing from the first round when Saina Nehwal retired at 10-4 in the second game, she overcame sluggishness and a tight turnaround to beat Yvonne Li 21-7 21-18 in the last 16. The Solrod native – who lost to Li as recently as the European Mixed Team Championships in February – fed on her German opponent's ebbing energy.
"I kept fighting in the rallies," said Blichfeldt. "We had some long and tough rallies and they hurt me physically, but they hurt on her too. That was giving me extra energy in the long rallies." The world No.12 started the year with a superb run to the semi-finals at the YONEX Thailand Open, downing PV Sindhu, Iris Wang and Busanan Ongbamrungphan on the way. Blichfeldt then pulled out of the second Super 1000 in the Bangkok bubble, the Toyota Thailand Open, citing a hip injury apparently common to Danish players as they come to terms with quarantine activity.
"Many of the Danish players have been struggling with our hips, because we're sitting down so much," she said. "I'm used to being more active and when you have so many hours to spend in your room, it marks the body, and I think that's why I got that injury. "It's a good learning journey for me to chill out and not be stressed all the time."
Old habits die hard But Blichfeldt has been unable to resist  pacing her hotel room, trying to stay loose. The downstairs room haven't complained – yet. "I have been walking around two and a half hours in my room from the door to the window, calling my family trying not to go mad!" she said. Blichfeldt first reached the quarter-finals at the YONEX All England on debut in 2018 and Thailand's Rathchanok Intanon awaits in the last eight.
She might be the only European left in the women's singles draw but the Dane is certainly commanding the respect of the field. "Mia has improved a lot from last time," said the Thai seed. "It's a long time since I played her. I'm not sure about how tomorrow will go, but I'll have to prepare well to play her." Photo: BadmintonPhoto