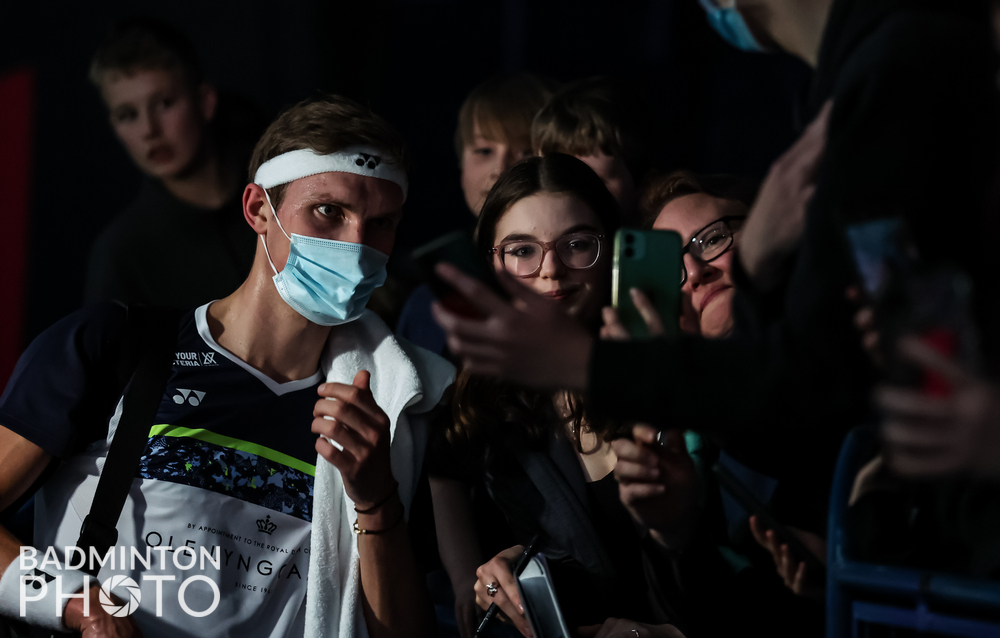 Crowds return to light up YONEX All England again
Two years ago the YONEX All England Open concluded in front of packed stands, Viktor Axelsen and Tai Tzu-ying among those claiming the prestigious crowns on offer in Birmingham. 
Eight days later, three words reverberated around Britain: Stay At Home.
By and large, that's the way things would be for the following two years.
There were very brief interludes where fans were allowed to return to sporting venues, but a third lockdown meant that by mid-March 2021, you were still only meant to meet one other person outside.
Social distancing, face masks, regular testing and the eerie spectre of empty seats welcomed the players as they returned to the Utilita Arena last year.
Now, the sight of fans buying food and drinks in the foyer, purchasing new rackets and shuttlecocks to use in back gardens or local courts, and enjoying the best players in the world in action is one to warm the soul.
For English players on home soil, the experience of having home fans behind them was something they were not taking for granted.
"I think we've really missed it. The last two years have been behind closed doors and not having as many fans. Just having people supporting, having friends and family in the crowd, it has been amazing," said Chloe Birch, who picked up her first win alongside new doubles partner Jessica Pugh.
"This is why we love this event, this is why we play it every single year. Thank you so much to the fans today because they definitely got us through that second set!"
Pugh added: "To have one of the most prestigious on the tour on our doorstep is unbelievable. Even the number of people today who have turned up on the first day for the first round, it really got behind us, it really helped us. It's amazing."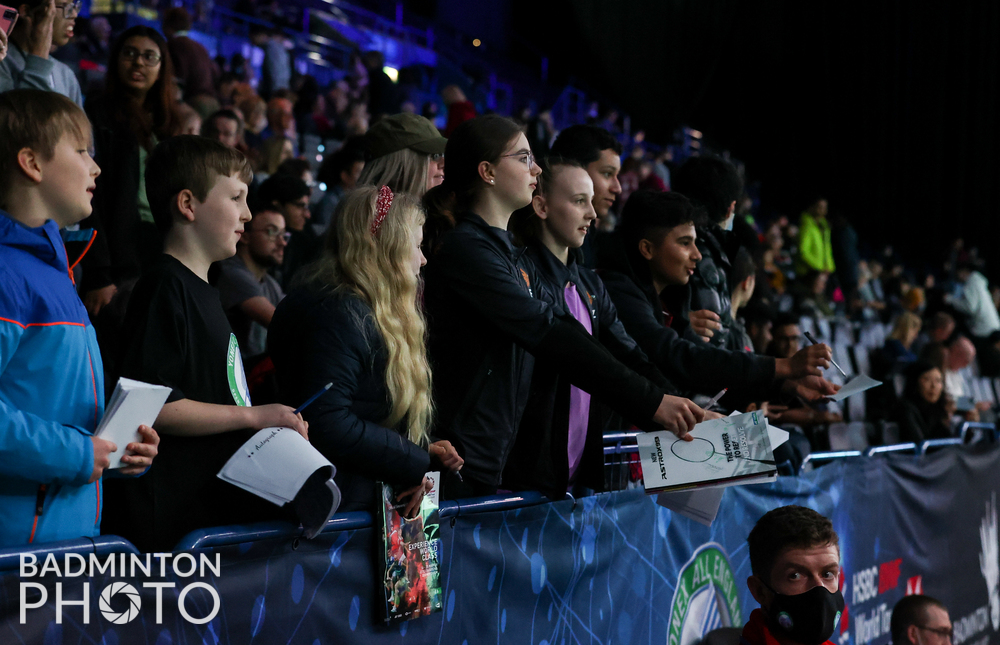 Even though they tasted defeat in their match against Ong Yew Sin and Teo Ee Yi, Callum Hemming and Steven Stallwood were also thrilled by the experience of playing in front of home fans.
"It's amazing. This is our first time with the crowds and it's just brilliant. It feels like we're not only just playing for ourselves, but also friends, family and just everyone who's come to support. I just want to say a big thanks to everyone who came and supported. It was just amazing," said Stallwood.
It wasn't just English players who received support from the Utilita Arena crowd, however.
Loud cheers broke through early in the day as Tzu-ying opened her campaign with a 21-12, 21-14 win over Lianne Tan, while Danish players such as Axelsen and the Malaysian contingent also received notable support.
Support also for Ukrainian Maria Ulitina, just twelve hours after arriving in Birmingham for her first round match against He Bingjiao after receiving a hasty visa waiver: "Go Ukraine" was the chant from some sections of the crowd in a match the world no.58 lost 21-8, 21-6.
Greysia Polii, who started her women's doubles campaign alongside Apriyani Rahayu with a hard-fought three-game win against Maiken Fruergaard and Sara Thygsen, said it was noticeable how vocal the crowd were.
"It led us to the win, the atmosphere," said the Indonesian, who won Olympic gold with Rahayu last summer.
"I love it. This is what sport was like. The spectators here are amazing. They've always been supportive towards the players. It's really nice to see that they are coming back and watching us."
Axelsen, who started his campaign for a second title with victory over B. Sai Praneeth, added: "This vibe here, this atmosphere, it's really special. There's a lot of history with this tournament and every player wants to win it really bad. It's a great experience here."
"I think it's the kind of atmosphere here and the feeling of the crowd, I think a lot of things, the locals, the stadium, everything feels so special," said former world no.1 Saina Nehwal, who also won her opening match.
"It's difficult to explain. There's a lot of factors that do make it very prestigious."
The YONEX All England Open Badminton Championships return to Utilita Arena Birmingham with the best players from around the world from 16th – 20th March 2022.
Don't miss out, get your tickets today.