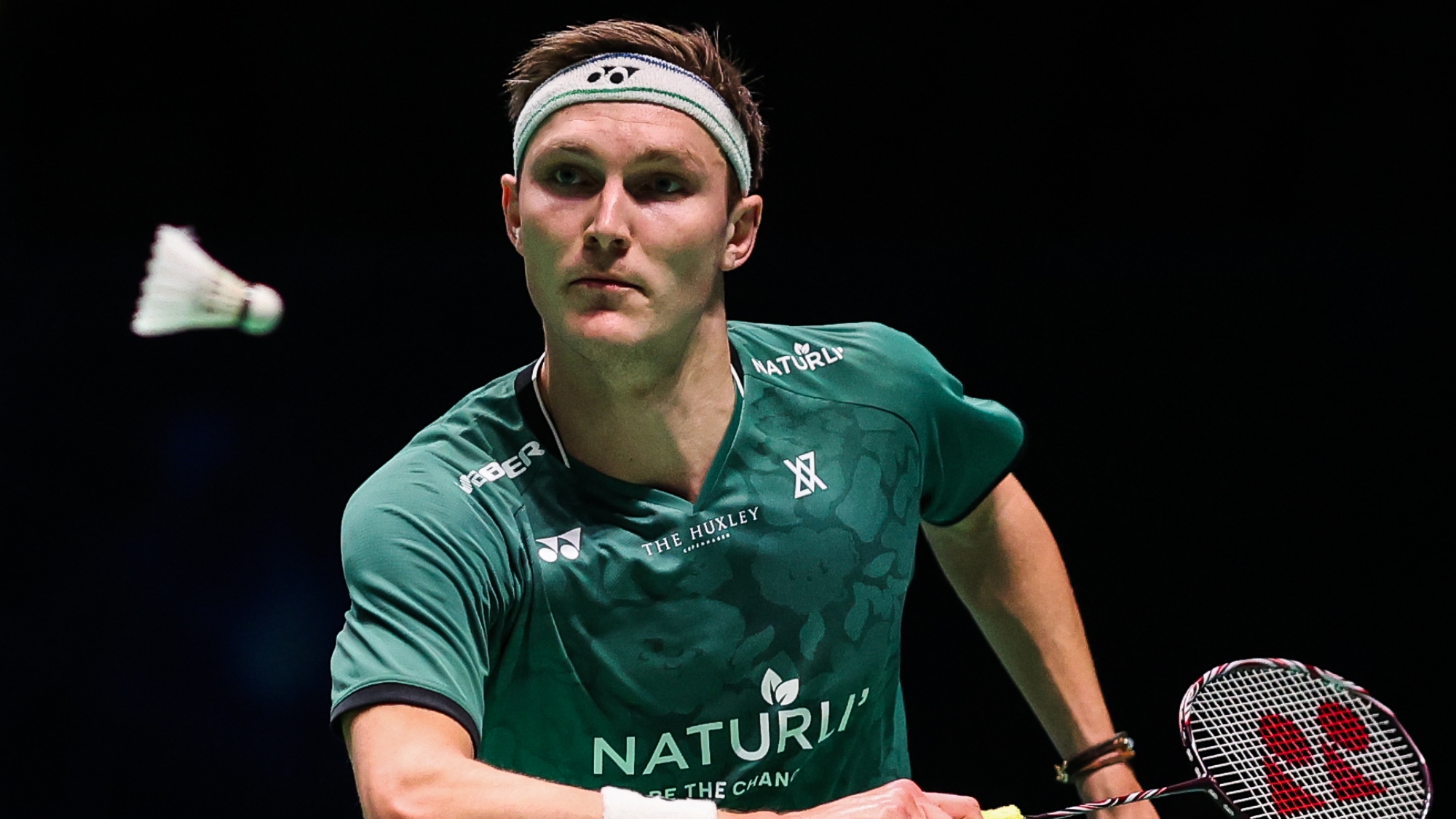 Day One Review: Axelsen survives on dramatic opening day
The YONEX All England Open kicked off in dramatic style on Tuesday with some big shocks and an early scare for defending champion Viktor Axelsen.
The great Dane, a two-time champion at the Utilita Arena Birmingham, was under the cosh early on against Lee Cheuk Yiu, dropping the opening game after a slow start.
However the world No.1 rallied, and his quest for a fifth straight final – and third title – continued after a 19-21 21-15 21-11 triumph.
"I'm feeling pretty satisfied about how I played in the last two games especially," said the Dane.
"Lee Cheuk Yiu is a tough opponent and today was a tough game for me, but I'm happy I was able to step up and win comfortably in the second and third game.
"I tried to step up the pace a little bit and I tried to control the rallies a little bit more. I was playing a little bit too slow and a little bit too cautious in the first game. I managed to turn it around.
"I've been doing really well here for many years so hopefully I can do well again this week."
2022 runner-up Lakshya Sen also sealed his place in Round 2, defeating fifth seed Chou Tien Chen 21-18 21-19 in a hotly-anticipated match-up.
It was a big win for Sen, who had struggled after undergoing a nasal operation towards the tail end of what had been a promising 2022 season.
"He is a tough opponent so I was prepared to give my all out there and I'm happy with the way I came out in both of those sets," Sen commented.
"I love to play in this kind of arena. It's one of the biggest tournaments and it was always my dream to come and play here."
Elsewhere, third seed Anthony Sinisuka Ginting overcame a tricky test against Kantaphon Wangchareon, beating the Thai 21-17 21-19 to progress.
One of the biggest shocks of the day came when China's Zhao Jun Peng stunned eighth seed and 2021 world champion Loh Kean Yew.
The Singaporean looked to be recovering after dropping the opening game, though Peng was dominant in the closing stages to seal an impressive 21-16 16-21 21-7 victory.
2019 women's singles champion Chen Yufei overcame a tough opening game to eventually battle into the second round.
The Chinese was pushed hard by Michelle Li but prevailed 22-20 21-14 against the Canadian to continue her quest for a second title.
"I feel very happy to win the game and I will try to find my best with every single game," said the fourth seed.
"I am very happy to be here, I have had good performances here before and I hope I can have good performances this week as well."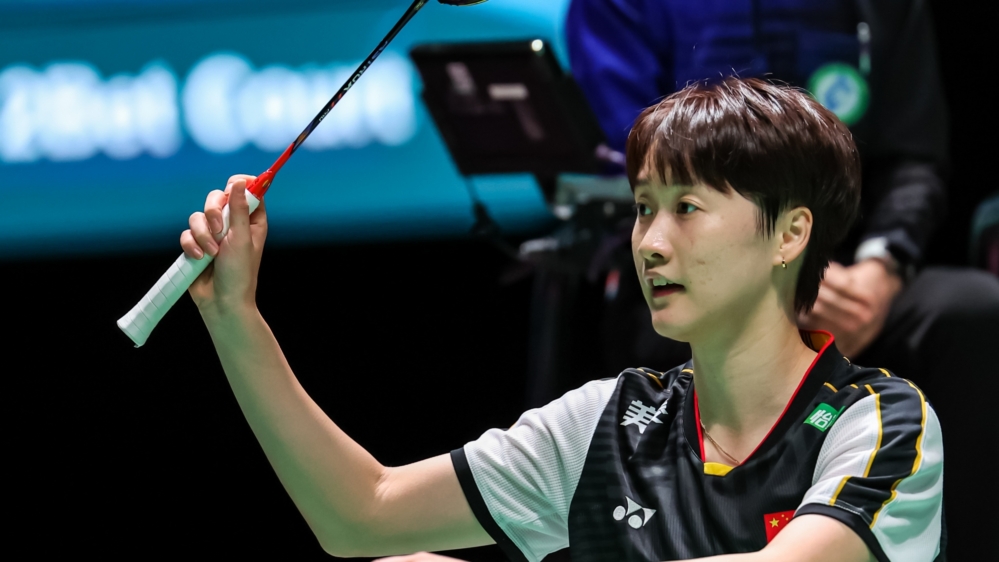 Yufei will play Pornpawee Chochuwong, next who knocked out two-time champion Naomi Okuhara in a reverse result from the final two years ago.
"This is my first match of All England 2023 and it's a good start from me. She is a former All England champion and I'm really happy to beat her today," the Thai commented.
Elsewhere, sixth seed Wang Zhi Yi overcame a tight first game to down Saena Kawakami 23-21 21-11 and set up a meeting against fellow Chinese player Han Yue, while Lalinrat Chaiwan upset fellow Thai and eighth seed Ratchanok Intanon 21-16 21-17.
Defending men's doubles champions Muhammad Shohibul Fikri and Bagas Maulana battled past Kim Gi Jung and Kim Sa Rang in a thriller to get their title defence underway.
The Indonesians fought their way to a 21-15 13-21 21-16 victory against the Korean pair to kickstart their title defence and will now face eighth seeds Ong Yew Sin and Teo Ee Yi.
Fikri said: "It was a very long game. We were trying our best.
"We are pleased to be back here and hopefully we can get the same result as last year."
Sin and Yi came over a significant scare, battling from a game down to defeat Lee Yang and Wang Chi-Lin 12-21 21-16 21-18.
Things were much more straightforward for fourth seeds and 2021 world champions Takuro Hoki and Yugo Kobayashi who eased into the second round.
Hoki and Kobayashi safely saw off compatriots Keiichiro Matsui and Yoshinori Takeuchi 21-12 21-14 and will now wait until Wednesday to find out their next opponents.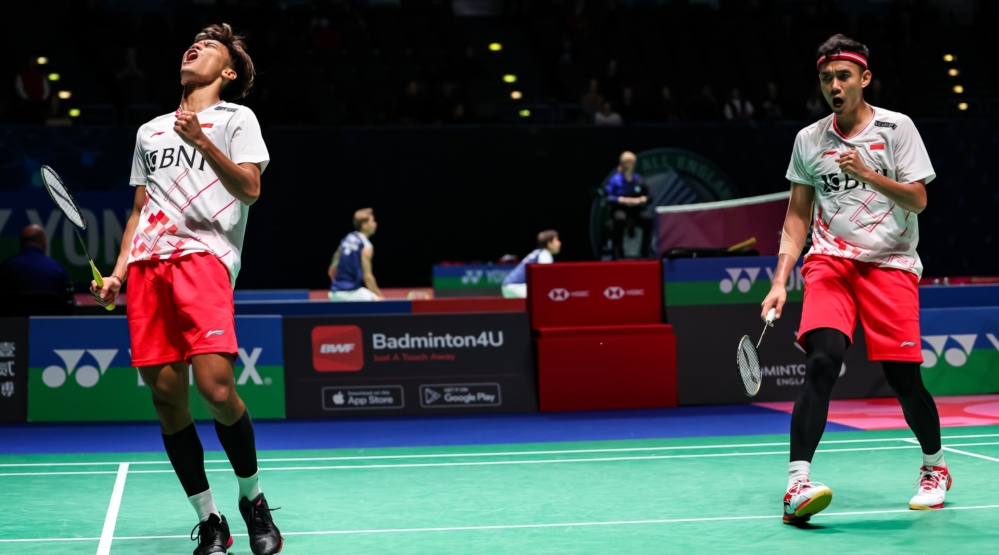 Home fans were treated earlier on in the day when Chloe Birch and Lauren Smith started their campaign with a 21-9 21-18 victory over Americans Srivedya Gurazada and Ishika Jaiswal.
Birch and Smith will now face Mayu Matsumoto and Wakana Nagahara, with the Japanese shocking fifth seeds Pearly Tan and Thinaah Muralitharan 21-13 15-21 21-15.
Top seeds Chen Qing Chen and Jja Yi Fan started their title quest in style, beating Rin Iwanga and Kie Nakanishi 21-11 21-13, while third seeds Zhang Shu Xian and Zheng Yu and sixth seeds Kim So Yeong and Kong Hee Yong.
Tickets for the 2023 YONEX All England Open are on sale now. Click here to secure your seat!