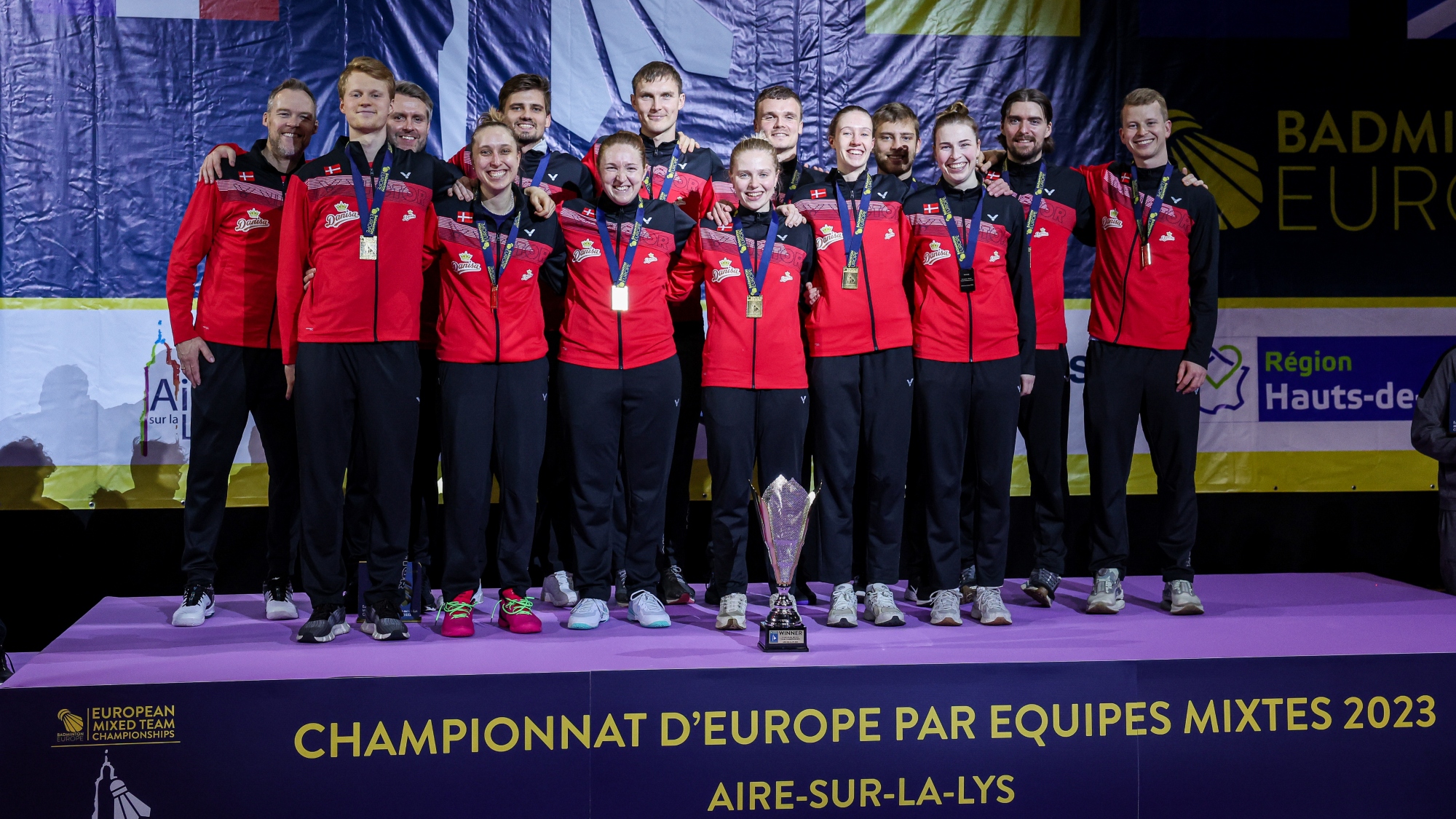 Denmark defend European Mixed Team crown
Denmark extended their dominance in the European Mixed Team Badminton Championships on Saturday with a thrilling 3-2 victory over hosts France in the final.
The Danish squad, were favourites pre-tournament, having won the past four editions of the event – and 13 of the last 14 since 1996.
They had looked dominant throughout the event in Aire-sur-la-lys, with comfortable victories over Ukraine, Scotland and England in their group, before again beating England in the last four.
However hosts France – who were beaten 3-0 in the final two years ago – also approached the final in good form.
The French had dropped just two rubbers in group stage ties against Bulgaria, the Netherlands and Germany, and then beat Germany 3-1 in Friday's semi-final.
They started the final in perfect fashion, with Thom Gicquel and Delphine Delrue defeating Mathias Christiansen and Amalie Magelund 21-17 24-22 in the opening mixed doubles clash.
Denmark needed a strong response, and they got just that with Viktor Axelsen edging past a valiant Christo Popov in a classic encounter.
After Popov claimed the opening game, Axelsen rallied to seal a thrilling 15-21 22-20 21-14 victory to level up proceedings.
Line Christophersen then put the four-time defending champions in front for the first time, easing past Qi Xuefei 21-12 21-11 to put her country just a rubber away from the title.
The hosts did not go down without a fight though, and forced a decider.
In a hard-fought contest, Gicquel and Toma Junior Popov defeated Kim Astrup and Frederik Sogaard 21-19 21-19 to level the contest at 2-2.
That meant that the women's doubles clash would be the deciding rubber, with Denmark's Maiken Fruergaard and Sara Thygesen facing French stars Delrue and Margot Lambert.
Delrue and Lambert started the quicker of the two, and won the opening game to put France just one game from the title.
Yet, Fruergaard and Thygesen fought back and ultimately prevailed 17-21 21-15 21-14 to claim the title once again.
The results mean that Denmark take home the gold medals, with France winning silver and Germany and England sharing bronze.