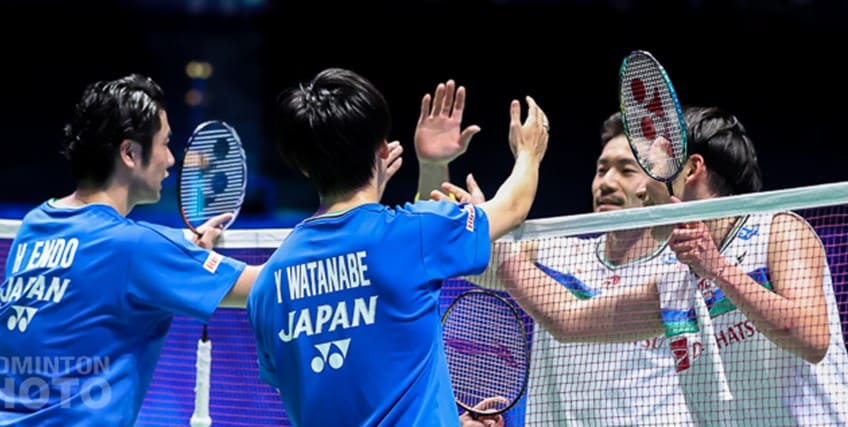 Endo: I have always loved YONEX All England
Opposites attract and Hiroyuki Endo and Yuta Watanabe are as different as they come.
The pair are separated by 11 years, with 34-year-old Endo famous for water-tight defence and surgical net play and Watanabe a twisting typhoon of smashes and elastic returns.
Before this week in Birmingham, only a couple of thousand Olympic ranking points separated them and Takeshi Kamura and Keigo Sonoda, who they would face in the final.
With 123 days to go until the Olympic Games open in their home country, they had the chance to lay down a serious marker at Super 1000 level.
So they came with a plan. Launch attacks at Kamura's right shoulder and build a wall to send Sonoda's smashes straight back.
Endo broke it down: "We could control the first game and play well, the second game we got a lot of attacking shots from our opponents, but we stayed calm and concentrated on carrying on to the third.
"That tactic worked and lead to us winning."
Kamura, who was ruthlessly targeted, said: "The first game was won by our opponents because of our errors in receiving. In the second game, we were able to play our style and absorb their [Endo/Watanabe] attack.
"At the end of the final game, their receiving quality was very high and we couldn't convert the points in the final rally and that's why we lost."
Sonoda added: "We were trying to win by being positive but there were many chances that we couldn't convert, we couldn't capitalise on those opportunities."
The draw and seedings are likely to keep the pairings apart until the latter stages in Tokyo, and they might just meet in a semi-final when the stake is a guaranteed medal.
With uncertainty lingering on the frequency and level of tournaments before the Games, Endo is unsure whether they will carry a psychological advantage into the Olympiad.
"We won the finals last year, but we haven't been able to play since so we didn't feel like we had a better chance than our opponents," Endo said.
"So we went into the match as challengers and took it point-by-point. We didn't feel we had a better advantage.
"When I was young, this was one of my favourite tournaments. Today is my second son's birthday, so this is a nice birthday present for him."