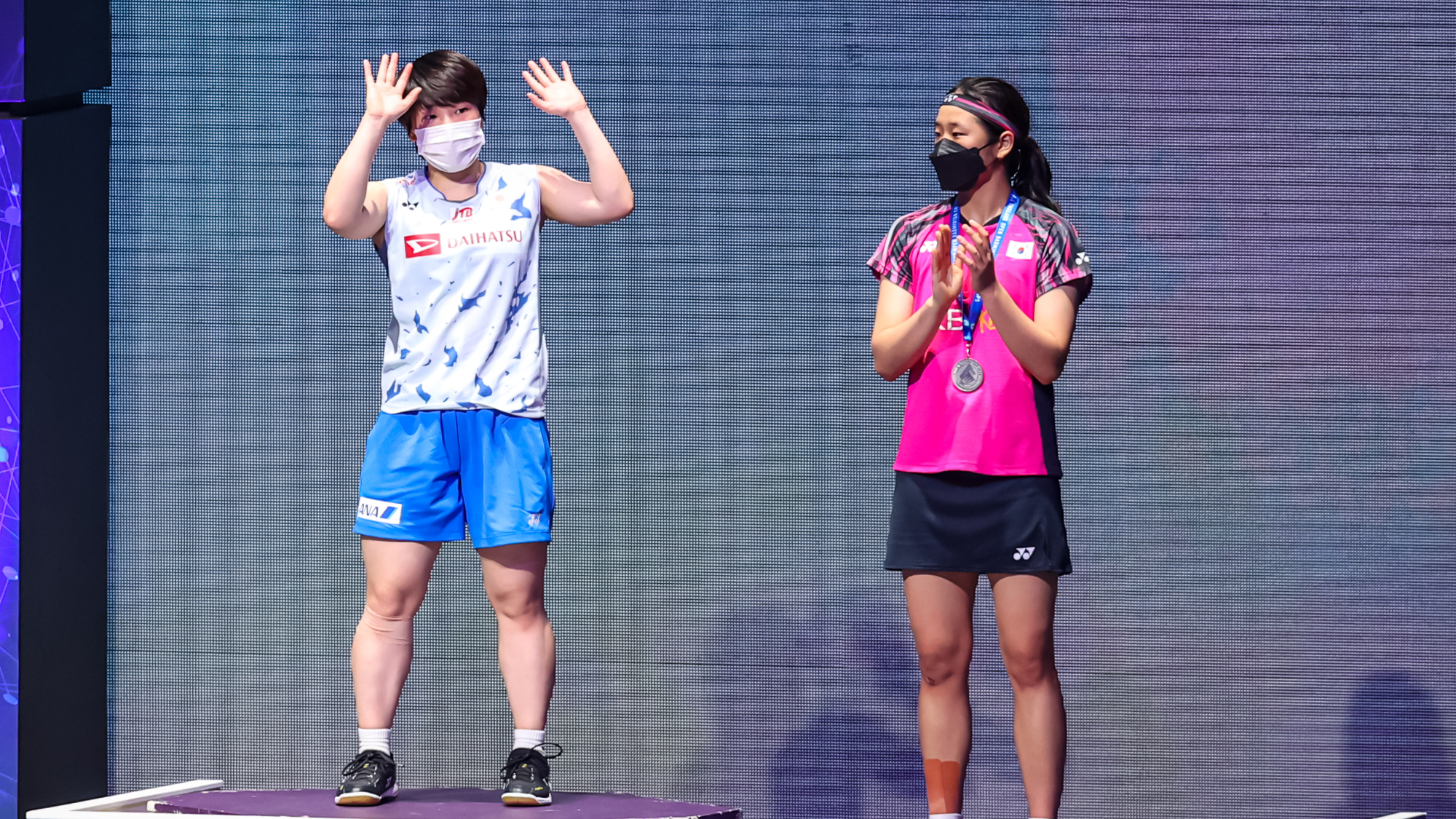 House of Yamaguchi in fashion at YONEX All England Open
World champion Akane Yamaguchi wrapped up the YONEX All England women's singles title at the eighth attempt with a dominant final victory over An Se-young.
The Japanese star was far too good for her South Korean opponent and barely trailed throughout a 21-15, 21-15 triumph that took 44 minutes.
It is Yamaguchi's third Super 1000 title and second since the Olympics, ensuring the women's singles crown stays in Japanese hands after Nozomi Okuhara prevailed in 2021.
"I have been here [to the All England] so many times, but I haven't been able to make the finals and I wasn't able to win the title," said Yamaguchi. "I am so happy that I won such a traditional tournament with such authority."
The two players, who have led the way in the category since Tokyo, met six times at the business end of 2021 including at the World Championships and BWF World Tour Finals. They split wins evenly, three apiece, but there was no doubting the winner at Utilita Arena Birmingham.
Yamaguchi said: "From the very beginning, I was prepared for a match with long and tough rallies. Having prepared mentally and emotionally, I wasn't focused on getting more or fewer scores, I was able to switch my mental state off from that and just focus on each hit. I think this was the deciding factor."
Yamaguchi has long been an outlier. She became the youngest-ever member of the Japanese national team when she joined the squad aged 15.
Her victory in the 2013 Japan Open made her the youngest to win a BWF Super Series title and now, at 24, she stands as world and All England champion. In the style of a true great, Yamaguchi believes there is so much more to be achieved.
"There are so many international top players in the world who I haven't played against yet," she said. "Compared to those players, there are still many areas I can improve in.
"So I would like to focus on improving my quality and accuracy and to play a style where I can enjoy myself. I want to keep practising, win titles I haven't achieved yet, win as many titles as possible, and just keep improving myself."
Yamaguchi got her nose in front by winning the eighth point and never relinquished the initiative, going on a run of four successive points to break at 11-6.
The Fukui native is pigeonholed in the Japanese style of play, characterised by fast movement and stout defence, which does an injustice to her range of attacking shots.
An had no answer for Yamaguchi's power, with the South Korean showing outward signs of frustration late in the first set. After a week where opponents have spoken of their inability to disrupt her glassy on-court demeanour, it was a sign that the Japanese was getting under her skin.
An went in search of more scoring shots in the second set and the pair traded blows up to 6-6.
Yamaguchi showed her class to win a remarkable rally on the 11th point, reaching forward to improbably return at the net and play a drop shot that An couldn't deal with.
The 20-year-old was outfoxed by another devilish dipping drop shot from Yamaguchi that left her lying face down on the court for a moment, an image that summed up this final.
An's world-leading net play allowed her to command certain moments but couldn't prevent Yamaguchi from winning six successive points, rising to 15-9 from 9-9.
An clawed her way back in to make it 16-14 but two emphatic smashes for Yamaguchi, followed by an improbable close exchange when the shuttle rode the net, saw her surge to victory.
An's frustration was clear in post-match interviews. She said: "I did intend to attack a lot, but that didn't go well. I made quite a number of mistakes and I feel quite disappointed I didn't show my best.
"I tried to make her run into every corner of the court, but she's very capable physically and my plans didn't come off."
An has firmly established herself among the global elite, the first South Korean to reach the All England final for 26 years.
Only three players from her nation have won the women's singles title here, and with a lifetime of shuttling ahead of her, it seems inconceivable she won't do it one day.
"It's been a while since we got here," she said. "I'm disappointed I couldn't go higher on the podium. But I have a tomorrow, I have a future, and I'll prepare my best to do better next year."
We welcomed fans back to the YONEX All England Open Badminton Championships this year. Now we want to welcome you back onto court. For more information and to find a court near you, visit: The Time Is Now | Badminton England