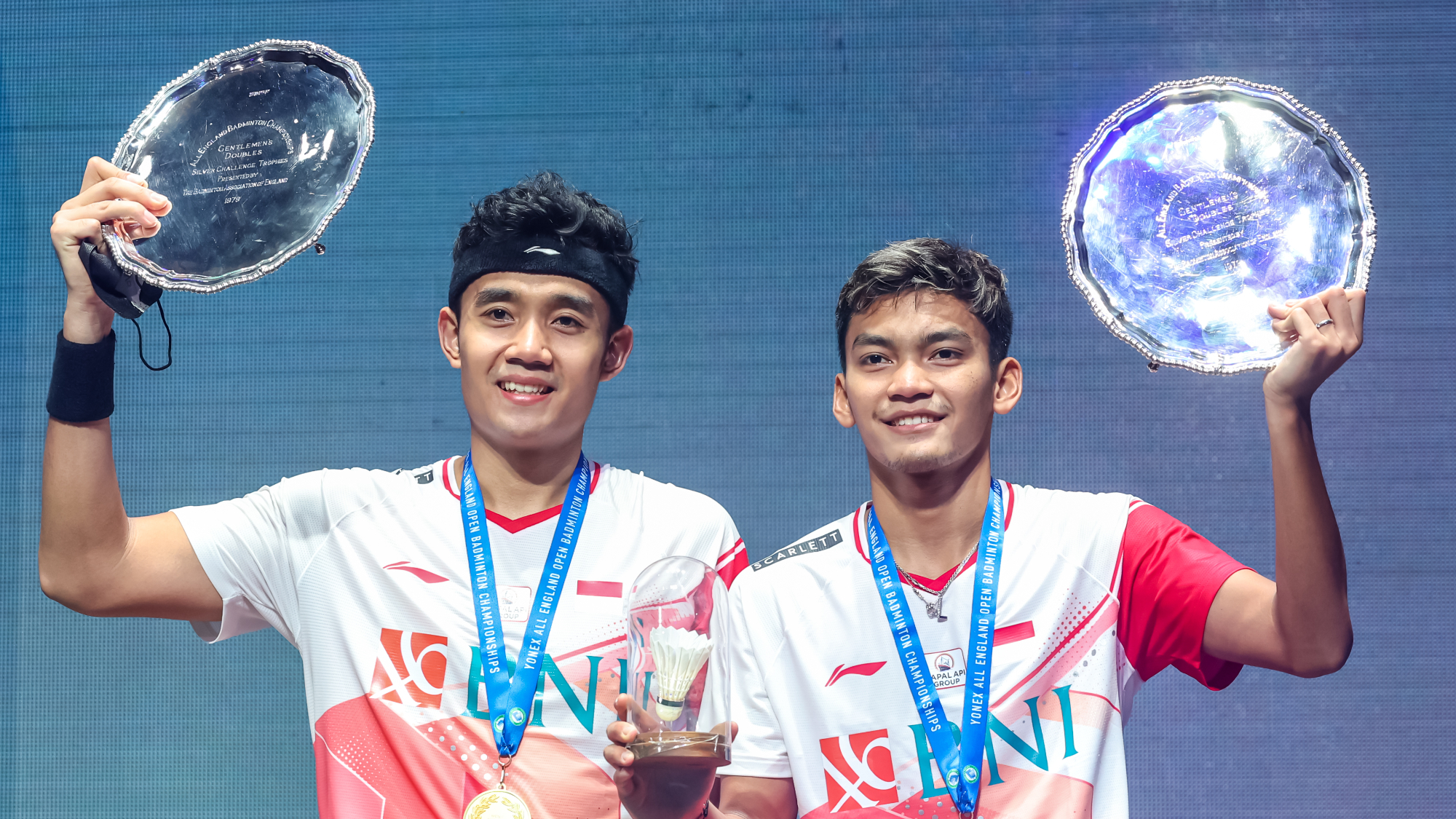 Indonesia baton passed to Bakri in YONEX All England triumph
Muhammad Shohibul Fikri and Bagas Maulana marked a changing of the guard in Indonesian badminton with victory over the 'Daddies' at the YONEX All England Open.
The rising stars now known as 'Bakri' became the 12th Indonesian pairing to taste victory at the sport's oldest and most prestigious tournament.
Mohammad Ahsan and Hendra Setiawan combine for 71 years and their team-mates only 45, a contrast that was made for potent and poignant viewing at Utilita Arena Birmingham.
Fikri and Maulana romped to a 21-19, 21-13 victory, sealed in 37 minutes, with both pairs embracing and saluting the crowd in an emotional climax.
"We're very very happy! We're very happy to have won the oldest tournament in the game's history," said Fikri.
"We had to tell ourselves to relax and to try and stay in control of the match. We are very respectful of the Daddies. They were not fully fit and they still really fought in the match.
"The fans were really amazing! We were shocked that they gave us so much support. We have a long way to go. We want to work harder to become more consistent. There are many more matches ahead, so we want to be more consistent in the future."
Bakri, ranked 28 in the world, have played together on the global stage since 2018. They lifted their only previous BWF World Tour title at the 2019 Hyderabad Open, a Super 100 event.
The narrative of the game was dominated by the calf injury carried by Mohammad Ahsan.
It troubled the 34-year-old throughout the semi-final and his answer at that stage was to "forget it, and fight."
That proved beyond him for long periods of the final although they matched Bakri all the way to 18-18 in a frantic first game. The younger pair won the last three points to claim initiative.
The second set was a totally different story with Ahsan struggling badly, resulting in a seven-point run for Fikri and Maulana heading into the break.
Ahsan called the doctor onto court in the interval, which could have stymied Fikri and Maulana's momentum, but they took care of that threat with astonishing attacking intent.
The 'Daddies' place in the pantheon of shuttling greats is obviously assured. How far the future stretches in front of them is less certain.
By reaching this final, Hendra Setiawan surpassed Lin Dan's record by reaching an international final for the 20th successive year.
"We're happy and have no problem with the result," said Ahsan. "Congratulations to them on their victory. They played really well today. They tried to attack us and they have good speed and power.
"It's great for men's doubles in Indonesia. We have three young pairs that are all close to being at the same high level."
We welcomed fans back to the YONEX All England Open Badminton Championships this year. Now we want to welcome you back onto court. For more information and to find a court near you, visit: The Time is Now | Badminton England