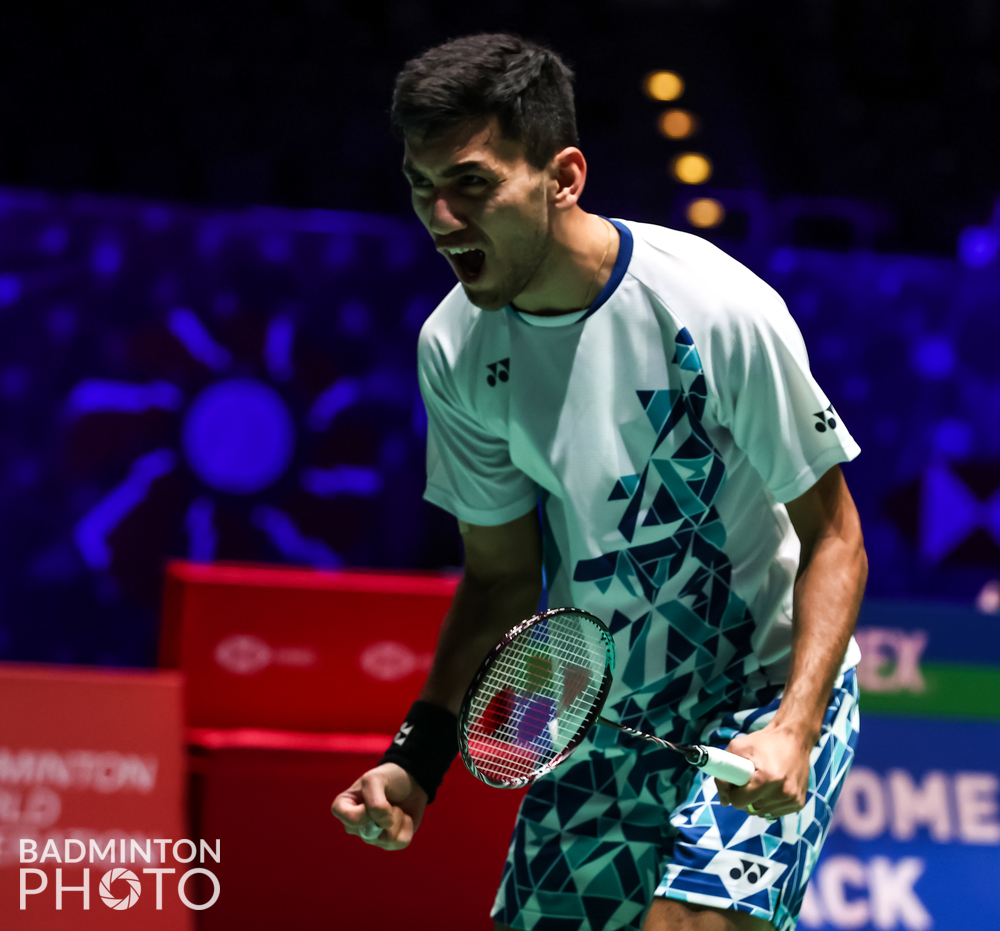 Lakshya Sen slays yet another giant at YONEX All England Open
Not many players beat Viktor Axelsen or Anders Antonsen – let alone both inside a week.
Both great Danes are now on Lakshya Sen's list of scalps, meaning no-one is safe from India's rising star at the YONEX All England Open.
The 20-year-old engineered a 21-16, 21-18 victory over Antonsen to reach the quarter-finals on his third appearance at the sport's oldest tournament.
Sen's strength is his steadiness and how little he gives away in terms of unforced errors. Coupled with ever-improving physical attributes, it is proving a devastating formula.
"He's very consistent at the moment," said Antonsen. "Moving well and getting a lot back. Yeah, consistency."
After an evenly-matched start, Sen won five successive points after the break to dominate the first game and demoralise Antonsen.
He lost control midway through the second, however, as Antonsen took six on the trot to briefly turn the tide. The players were locked at 14, 15 and 16 each.
"I had a plan and in the first game it was just about getting the shuttle back and keeping steady," said Sen. "I tried to take my chances and go for the kill in the second game.
"I had to keep going at 16-16 and remind myself not to rush, not to make any silly errors. That was a crucial period for both of us and I managed to get three points ahead."
Rising star Lakshya Sen 🇮🇳 continues his rock-solid run in Birmingham!

Follow live action: https://t.co/TjoFnU4PnB@HSBC_Sport#BWFWorldTour #AllEngland2022 pic.twitter.com/PJGp1DkfLM

— BWF (@bwfmedia) March 17, 2022
A prodigious junior talent, Sen reached No.1 in the world at youth level and took medals at the Youth Olympics, World Junior and Asian Junior Championships.
The transition from rising star into fully-fledged, World Tour thoroughbred is a delicate one and Sen seems to be managing it perfectly.
He committed to a brutal schedule in the autumn of last year, playing eight tournaments in ten weeks, that helped him mature and learn to fend for himself on tour.
Sen emerged with bronze from November's World Championships, the fourth Indian player to do so, and with coach Yong Su-Yoo on board has gone from strength to strength.
Wins over Anthony Ginting and Axelsen, in three games, at last week's YONEX Gainward German Open put the world on notice.
"With those kind of players, you go all out and have nothing to lose," said Sen. "If you get a win, it's always a bonus."
It was a day of contrasting fortunes for Indian players at the All England, where no player from the nation has claimed a title since 2001.
PV Sindhu has run into problems against Japan's Sayaka Takahashi in the past and did so again in a 21-19, 16-21, 21-17 second-round defeat.
Sindhu has reached two semi-finals here but has never gone further, a gap on an otherwise glittering shuttling CV.
Saina Nehwal recaptured some of her best form and took newly-minted world champion Akane Yamaguchi to a third game, eventually falling 21-14, 17-21, 21-17.
There's no doubting the newest and brightest star dressed in green – on this form, that 20-year drought could end on Sunday.
The YONEX All England Open Badminton Championships return to Utilita Arena Birmingham with the best players from around the world from 16th – 20th March 2022.
Don't miss out, get your tickets today.