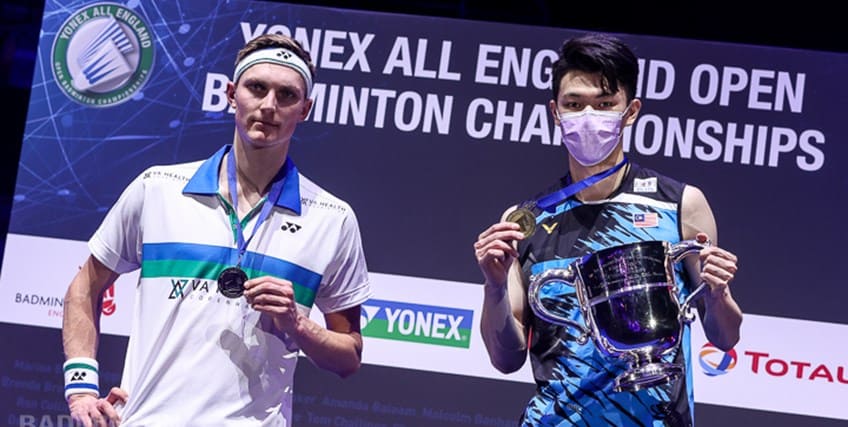 Lee and Axelsen reflect on magical duel
Just about everything that could have happened, happened at this year's unique YONEX All England.
So it was fitting that Lee Zii Jia and Viktor Axelsen produced a men's singles final in which just about everything that could have happened, did.
Lee, soon shirtless, roared at empty Utilita Arena Birmingham stands when he wrapped up the final game 21-9, and those lucky enough to be essential to the running of the event wanted to roar back at him.
"I can't describe my feeling now," said the 22-year-old. "It's happy, sad, excited, all at the same time. It's a very special moment for me."
Axelsen barely broke sweat in their last meeting, winning 21-15 21-4 just two months ago at the HSBC BWF World Tour Finals.
Sweat pouring from his brow was the least of his worries in a scarcely believable first game that Lee edged 30-29 after a series of winners and unforced errors from both players.
Axelsen said: "It was a crazy game. I had my chances in the first game and should have won it, if I wanted a chance to win the game. Unfortunately it went his way and I want to congratulate him. He's been playing very solid this week and deserves to be the champion.
"I had no emotions in the game, obviously really disappointed about the mistake I made in the end. But that's the game, that's how it is."
Lee said: "Both of us played every point. We had to take a very good focus. In the third set, maybe Axelsen lost a little bit of focus, so I got the advantage."
There would be no back-to-back titles for Axelsen, king of the BWF World Tour at current, and it was his second defeat in 29 game.s
"It has been a pretty weird week," he said. "We were almost out of it before it all started, and to get myself in the final and have a great semi-final, I used a lot of energy. Probably too much in the first two rounds."