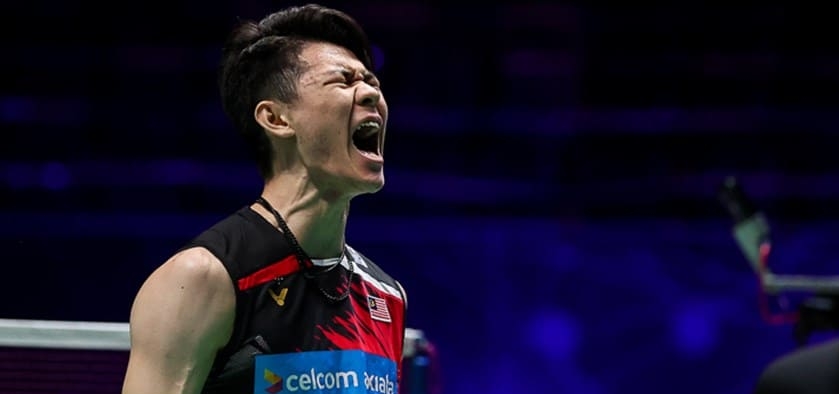 Lee Zii Jia stuns Momota to emerge as YONEX All England favourite
Lee Zii Jia knows Kento Momota better than the world champion knows himself.
The Malaysian pulled off an almighty shock in knocking out the world No.1 21-16 21-19 on the Japanese's globally-anticipated return to the court.
Lee speaks of a study of the Japanese star's game stretching back years, learnings he was unable to implement in defeat in their previous six meetings, but produced note perfect in the YONEX All England quarter-finals.
"I've never beaten him before, so this is a very special moment for me," he said.
"I did a lot of studying about Momota. Every time I played him, it seems like there's a big gap between us. I always discuss about what strategy I have to play against him, we worked a lot on that. Today is a big win for us."
Lee Zii Jia hates being compared to Lee Chong Wei, but he is doing a passable impression of the Greatest Of All Time's feats at YONEX All England Open. He reached the semi-finals on tournament debut last year, beating Chen Long on the way.
On the basis of a near-faultless quarter-final display, you would expect him to lift the trophy at least once, if not four times like his legendary compatriot.
The pair went blow-for-blow up to the interval, taken at 11-8. Lee surged on from there, matching Momota's razor-sharp movement to win seven straight points and take it 21-16.
The 22-year-old drove home the advantage, stretching out to an 11-6 lead at the break in a white-knuckle second game. If there had been a crowd inside Utilita Arena Birmingham, they would have let out a load gasp when Lee saw a net cord go his way to make it 20-19.
Lee Zii Jia struggled badly at the Asian Leg of the BWF World Tour. He lost in the quarter-finals of the YONEX Thailand Open to Chou Tien Cheng and then crashed out of the Toyota Thailand Open in the first round to India's world No.27 Sameer Verma.
It seems he had a tough time dealing with the expectations placed on him having broken into the top ten of the world rankings.
"Before the Asian Leg, many people said that I was one of the best in the top ten in the world and I questioned myself many times," he said.
"It's not easy to get through all this. I worked a lot on my mental side, it's not easy."
The draw has opened up for Lee, who is set to face Mark Clajouw of the Netherlands in the semi-finals. This isn't the last we've seen of him this week – or any week, for that matter.