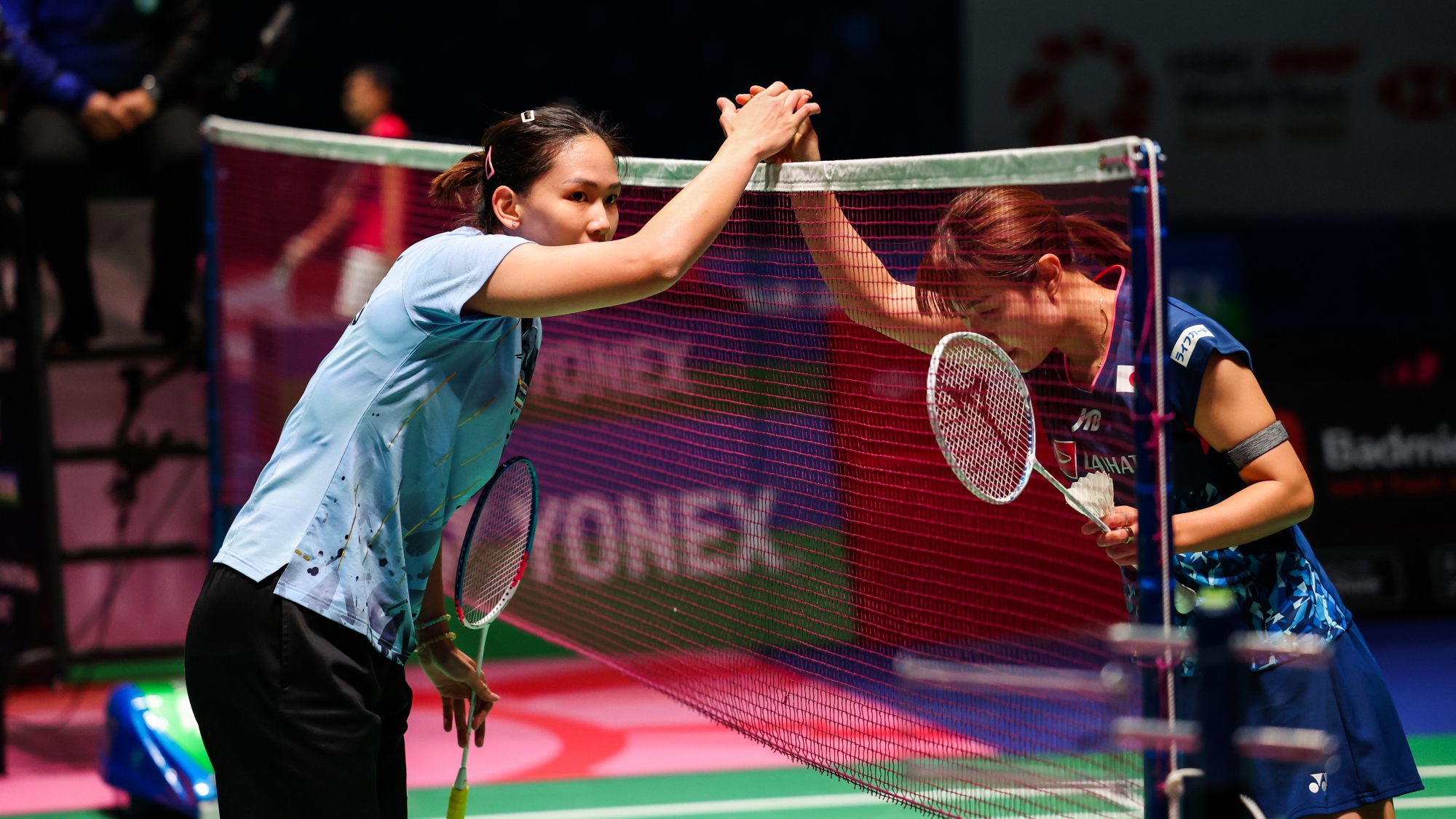 Okuhara and Chochuwong meet again in emotional replay of 2021 final
Nozomi Okuhara and Pornpawee Chochuwong have history here in Birmingham.
It was just two years ago that the Japanese, seeded second at the time, and the Thai, then seeded sixth, went face-to-face in the YONEX All England final with one of the sport's most prestigious crowns at stake.
Okuhara approached the final looking to regain the title she'd won in 2016, while sixth seed Chochuwong was targeting a first victory at the storied event.
And it was the Japanese who prevailed, a 21-12 21-16 victory handing her a second crown at the tournament, adding to previous accolades such as her Rio 2016 bronze medal and 2017 World title.
Fast forward to 2023, and it is a different story.
While they met in the Sunday showpiece two years ago, this time around the pair were pitted against each other on the opening day of the tournament.
Neither Chochuwong nor Okuhara have been at their best recently; both find themselves unseeded, with the Thai ranked 11th and the Japanese two places back in 13th.
Both could have opened their campaigns against a seeded opponent, but the badminton gods conspired to draw a rematch held in contrasting circumstances to their previous clash at Utilita Arena Birmingham.
And ultimately it was not only the circumstances that differed, but also the result.
It was an impressive display from Chochuwong, who came through a close-run second game to seal a 21-11 21-15 victory and reach the second round.
"This is my first match of All England 2023 and it's a good start from me. She is a former All England champion and I'm really happy to beat her today," said the 25-year-old, who faces fourth seed, Olympic champion Chen Yufei next.
Though three spots off her career-high ranking of eighth, Chochuwong believes there is even more to come after what must have been a sweet victory for her.
She added: "I think this is a much different result from that time [the 2021 final]. I think I've improved a lot, but I have to improve more.
"Today I just didn't want to make any mistakes, make every single shot and just be patient for the opportunities.
"It's a good start for me, but I have to take it step-by-step when I'm on court."
The joy of victory for one is forever contrasted by the disappointment of defeat for another.
It is a feeling that Okuhara has unfortunately become used to in recent months, the former world No.1 repeatedly struggling to build form and momentum; she has lost all four of her matches in 2023.
"It just wasn't good enough at my end," said Okuhara, who was visibly emotional after defeat at one of the key tournaments of her career.
"This is a very special tournament for me but not only for me, for everybody I believe. I have very fond memories of this tournament and I'm just so glad that I'm able to play on the court, stand on court."
Results may have not gone her way in recent times, but the Japanese is more determined than ever to battle back and become a dominant force in the sport.
The 28-year-old has plenty of past success and pedigree to build on, and with the cycle to Paris 2024 beginning, the time to start reasserting herself as a key contender at the very biggest tournaments is now.
She added: "We are embarking on the Olympic cycle shortly, so in order to be able to make a good start for May, I'd like to make sure I'm in top condition.
"However, I'm not in the top condition, continuing really from last year, and I'd like to prepare myself so that everybody says: 'Okuhara is back.'
"I'd like to prove that I'm back."
Tickets for the 2023 YONEX All England Open are on sale now. Click here to secure your seat!