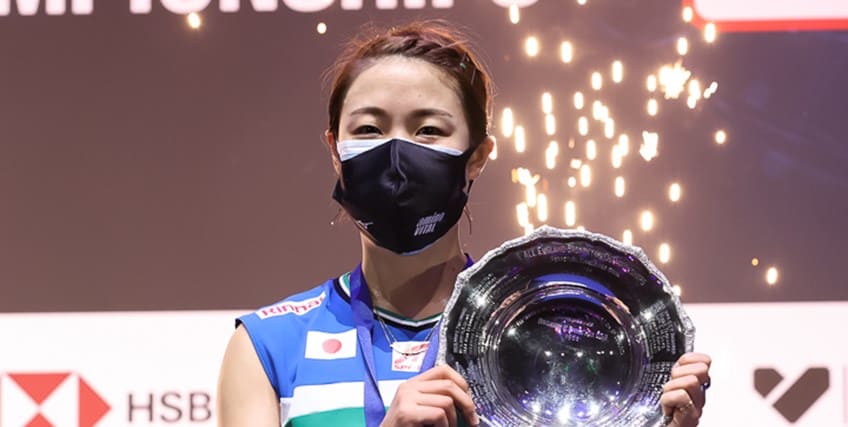 Okuhara handles pressure to claim another YONEX All England crown
A lot has happened to Nozomi Okuhara since she won her maiden YONEX All England title.
She received the best possible 21st birthday present in 2016 in taking victory over Wang Shixian, becoming the first Japanese player in 39 years to prevail in the discipline.
The Nagano native has since become world champion, world No.1 and won an Olympic medal.
Okuhara gave herself a perfect platform to push on and attempt to pull off all three of those achievements in what remains of 2021 with a second All England title. It came 21-12 21-16 at the expense of Pornpawee Chochuwong.
"Five years ago I won here and there was no pressure, this time i'm in the top five players in women's singles so that changed things," she revealed.
"But my overall play is now at a higher level so I am very happy."
Seasons stitched together at the top of the sport bring pressure and expectation, but also a wealth of experience that was one of Okuhara's most powerful weapons against the Thai.
She dominated the first set, climbing out to a 14-8 lead. The second was far more complicated, with Chochuwong changing the dynamic, upping her speed and the intensity of her play.
Okuhara, with her famous booming high serve and ferocious defence, found the solutions and matched her opponent's rising level to claim glory in 44 minutes.
"I'm very happy to be the All England champion again!" said Okuhara.
"I wanted to play the same in this final as in my other matches, but I wanted to play my shots to the back higher which worked very well. It's her (Pornpawee Chochuwong) first time in the final of the All England, I think she felt a little bit of pressure."
Okuhara would know all about pressure – and it will certainly be on her when she aims to improve on her Rio Olympic bronze medal on home soil this summer.