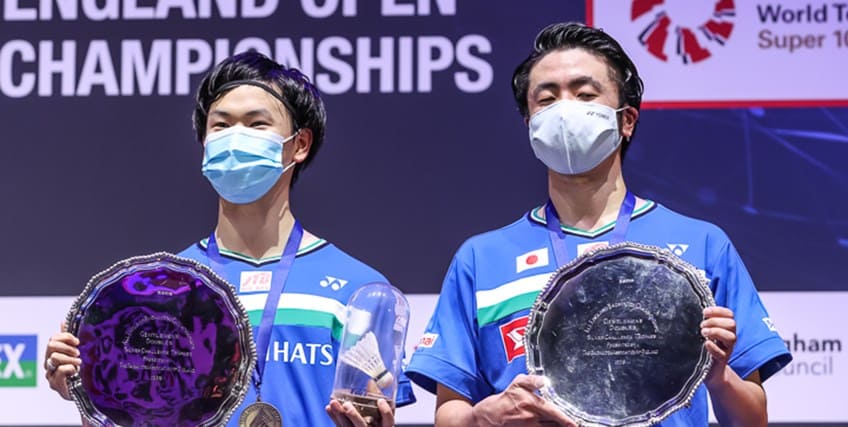 Phenom Watanabe and Endo retain men's doubles title
YONEX All England has been operated under a new normal this year – but there's nothing normal about Yuta Watanabe, a freakish talent who has dominated doubles disciplines this year.
Since COVID hit, Watanabe has not let a global pandemic excuse him from training, any which way he could, his peak physical condition clear for all to see in Birmingham this week.
The 23-year-old reached the final of both the men's doubles and the mixed doubles in Birmingham's Utility Arena today without dropping a set in either discipline.
That is eight matches before finals day without a single game lost -a truly remarkable feat. Watanabe won the men's doubles title with partner Hiroyuki Endo, here last year, one of the finest finals in modern history.
Marcus Fernaldi Gideon and Kevin Sanjaya Sukamuljo, no less, the pair they defeated for the title. But the 23-year-old was devastated to lose with female partner Arisa Higashino in last year's last 16.
English pair Marcus Ellis and Lauren Smith shocked then-fourth seeds Watanabe and Higashino in a win of some ease; 21-15, 21-10. It was here that the Japanese mixed doubles pair had their first great success though, winning their maiden Super 1000 title at the 2018 Yonex All England.
But the man Watanabe is, especially now he has both titles from separate years, really fancies both doubles disciplines his gender has him eligible for, in the same week. Not greed, but a professional athlete's necessary drive to succeed at the highest level.
Today the first set was clinched with a trademark, electric Watanabe smash, pouncing on the slightest invitation to kill, game won swiftly, 21-15. The faster the points won, the less time on court and better preparation for Watanabe for the final final today-the mixed doubles.
4-1 up in the second, but then 11-8 down at the interval saw a bit more work to do against Takeshi Kamura and Keigo Sonoda, their home country's counterparts.
At 14-10 down in the second, the sheer world-class racket skills of Watanabe and Endo were best shown, deflecting back smashes they had no right to return to court. But the second did not go quite to plan conserving Watanabe's energy, he and Endo lost 21-17 to take it to a decider on the Geoff Rofe Court.
Watanabe was instrumental in the first point win of the third set, making great use of his youth and exuberance to match Endo's calm experience; there are 11 years between him and his elder partner Hiroyuki Endo.
To go from 9-6 to 10-6 up in the third was probably the rally of the match-well worth a BBC iPlayer rewind. But then stay on for just two points later when Watanabe dives to ground then gets back up and keeps the rally going magnificently, including an incredible jump and spin backhand you just have to see to comprehend.
In the first of three all-Japanese doubles finals today it was the fourth seeds Watanabe and Endo that beat Kamura and Sonoda for the fourth time in the row, despite the latter pair being seeded a place higher.
21-11 the final set score in the first of at least three Japanese All England winners today, in this Tokyo Olympic year.