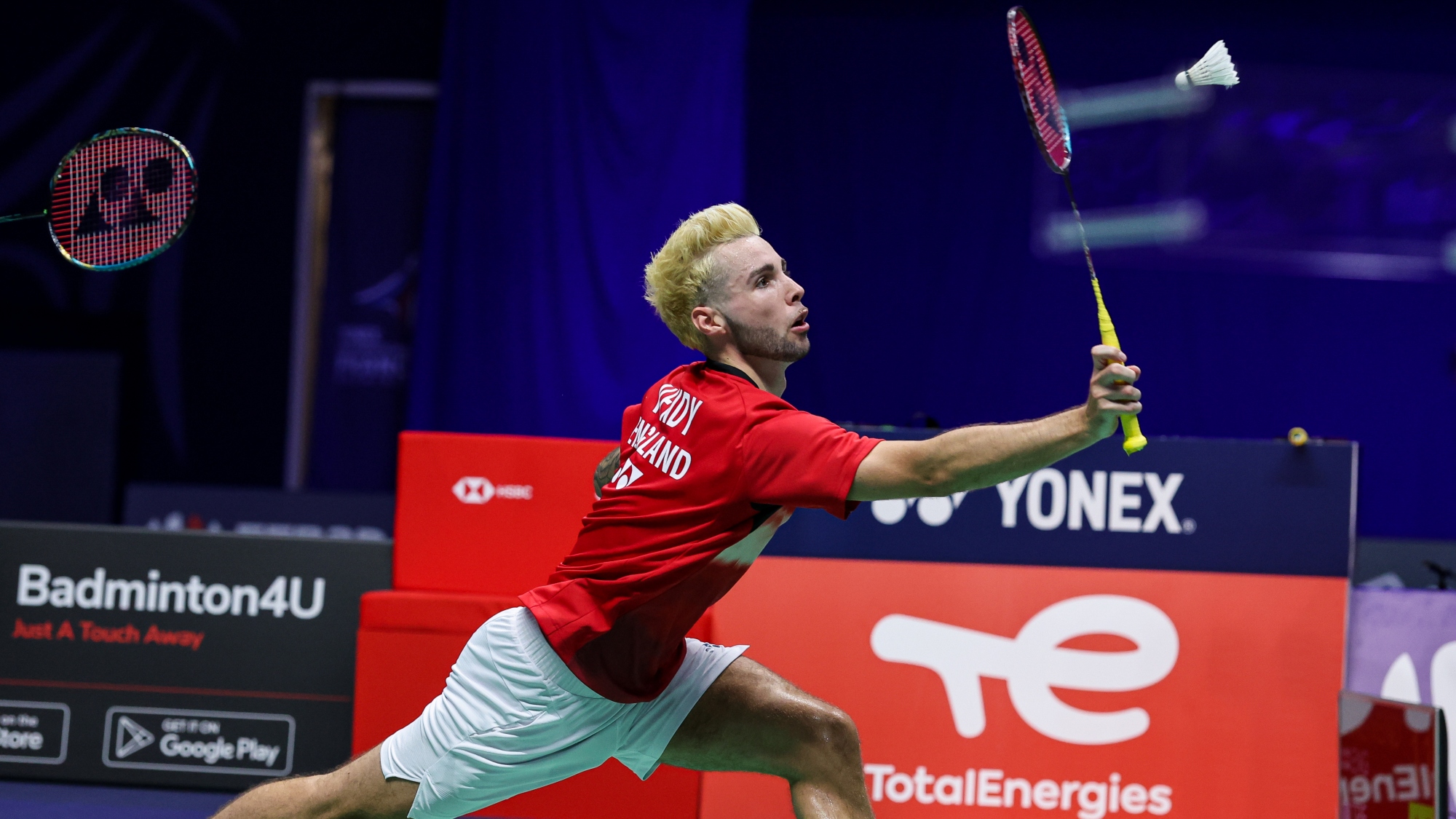 Sean Vendy looks to build on valuable 2022 lessons
6 March, 2023
Valuable lessons learnt at the YONEX All England Open helped Sean Vendy scale new heights in 2022.
Vendy and doubles partner Ben Lane made huge strides on the doubles circuit last season, beating several of the world's best pairs and reaching a career high of 13th in the BWF rankings.
A large part of their improvement stemmed from what was a challenging defeat at the tournament 12 months ago against Japanese pairing Takuro Hoki and Yugo Kobayashi.
Hoki and Kobayashi were seeded third and were reigning world champions at the time, and Lane and Vendy were close to pulling off a significant upset.
The English pairing rallied from a game down to hold match points in the decider, and Vendy does not shy away from how difficult failing to close that out was.
"Last year at the All England was good and bad. We had chances in the second round against one of the very best pairings," Vendy said.
"We were leading at 19-15 in the third game, and then we lost. That's a memory that I have – whether that's good or bad, I'm not sure.
View this post on Instagram
"When you get into that position it almost hurts so much when you lose, especially at the All England.  We had a chance to get to a quarter-final against a pair who we'd previously beaten in the three months prior to that. It was a good shot at a semi-final of an All England and ended up being a second-round loss. We were really trying to understand why it happened and we have done.
"From then I think, across the end of the year, we put everything into practice and then it all came together across the tournaments which is nice.
"Towards the end of the year, everything really fell into place. I think in three months, we beat six out of the top 10 pairs in the world. We really started putting it all together when it mattered.
"I feel like since last year, we're a lot more rounded. I think if we were in that position again, we would definitely convert it. I haven't done amazingly at this tournament – so I think the best is yet to come."
Vendy and Lane have been handed an enticing draw this year, with fifth seeds Liu Yu Chen and Ou Xuan Yi waiting in the first round for them.
The Chinese pairing will undoubtedly provide a huge test, but Vendy believes he and his partner have rarely been in a better place to challenge the very best.
He added: "We're training probably the hardest we've ever been trained. I feel great, Ben feels good. I think it's inevitable that soon we will have another big result and hopefully that's at the All England.
"We're doing a lot of physical training. A lot of matchplay, which is helping us to replicate what it's actually like when we get out there. Doing three v two, which is putting maximum pressure on us.
View this post on Instagram
"I don't think the training will change that much from what we do on a standard week, our routine's pretty good –  it's helped us.
"I think a few tweaks in what the content looks like will happen, but the main training will be very much similar to what we usually do."
Expectations are high despite a challenging draw following the improvement that the duo have made, and Vendy cannot wait to once again put on a show on home soil.
"We've been looking forward to this tournament since last year. I think off the back of the Commonwealth Games, a home event in Birmingham, there were loads of spectators –  we're just looking forward to getting back out there in front of that Birmingham crowd that gave us so much support.
"I think the target is we want to go deep into the tournament and whether that's quarter-final, semi-final, final –  it's got to be past the second round for us.
"We don't want to put a specific goal on it. If we said we want to get to the quarter-final and then we do get to the quarter-final, then it's almost like we've achieved it, but we wouldn't be happy with that.
"I think we'll set some goals, but it probably won't be outcome goals. It will be more about what we're doing as a pair, and how to refocus rather than how we want to get to a certain stage."