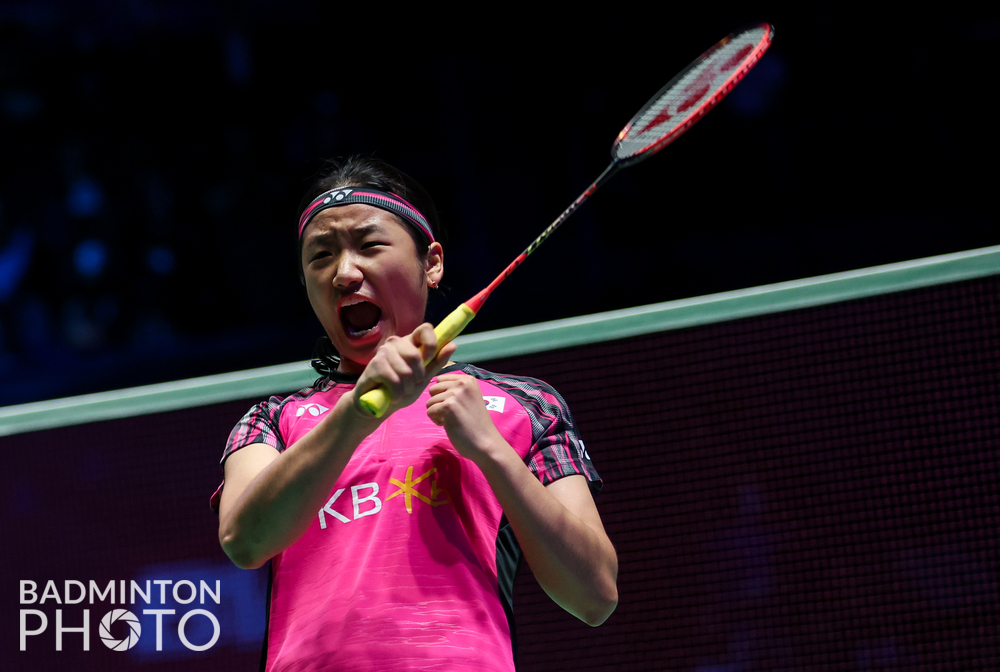 Stars align for YONEX All England finals day
The stage is set for a special Sunday of badminton in the heart of Birmingham with an all-star cast of finalists aligned at the YONEX All England Open.
Four new champions are guaranteed to be crowned at the sport's oldest and most prestigious tournament with Yuta Watanabe and Arisa Higashino out to defend their mixed doubles final.
Women's singles: Cream rises to the top
The hottest properties in women's singles face off for the All England title, in the shape of An Seyoung and Akane Yamaguchi.
The pair duelled six times in two months at the business end of 2021 with three wins split evenly, suggesting fine margins will decide who takes the spoils this time.
An had a relatively smooth path to the quarter-finals and the 20-year-old's composure belies her small years. She was far too good for Tai Tzu-ying in the semi-finals and hasn't dropped a game.
Yamaguchi, crowned world champion in November, knows exactly what she's up against.
"I know that she is very strong in defence and she makes very little errors," said the Japanese. "She's a great rallies so I think it will be a tough game.
"Of course I want to win but at the same time, she is younger than me and one of the top players in the world. I'd like to focus on being as proactive as possible."
Men's doubles: All Indonesian final at the All England
Generations collide in the men's doubles final with the 'Daddies' taking on a new force in the young pairing now known as 'Bakri'.
Mohammad Ahsan and Hendra Setiawan have a shot at heir third All England title, an all-time record, having lifted the famous trophy in 2014 and 2019.
They have found a way to win despite Ahsan's ongoing injury problems and three of their four games on the road to the final have been decided in the rubber.
The contrast is sharp between 'Daddies' and Muhammad Shohibul Fikri and Bagas Maulana, the former with 71 years combined and the latter only 45.
"We're happy it's two Indonesian pairs in the final, it's not easy to do because this is a big tournament," said Setiawan. "It's good to have a young pair in the final and another generation."
Women's doubles: Japanese heavy favourites
The form book suggested Japan's Nami Matsuyama and Chiharu Shida would reach the final at this All England.
They were in scintillating shape in the latter part of last season, winning the Indonesia Open and Indonesia Masters, and have maintained that here in Birmingham.
Matsuyama and Shida have been dominant and didn't drop a set on route to the final. When asked whether they had more in the tank for the final, they answered emphatically: "Yes!"
Few would have picked Zhang Shu Xian and Zheng Yu as their opponents, for this is only their second tournament playing together with their first last week's German Open.
Their sheer speed on court has proven too much for pairings and in a discipline that has provided shocks all week long, don't bet against another one in the third game of the day.
Zhang said: "The top seeds aren't used to the way we play. We need to stay humble and keep producing our best. We'll try our best to play against (the Japanese)."
Mixed doubles: Olympic champions there to be shot at
The mixed doubles final should produce one of the fiercest contests of the day with Tokyo gold medallists Wang Yi Lyu and Huang Dong Ping topping the bill.
The challenge for the world No.3 pair will be to recover physically and mentally from a typically intense tussle with team-mates Zheng Si Wei and Huang Ya Qiong.
That game went nearly an hour and much less than 24 hours later they will need to be at their best to beat reigning champions Yuta Watanabe and Arisa Higashino.
The variety of the Japanese's play and their vibrant on-court character will provide a contrast and a challenge to the dominant Chinese duo.
Men's singles: Axelsen or Sen?
Viktor Axelsen will have to turn things around to claim a second YONEX All England title when he faces India's rising star Lakshya Sen.
Lakshya beat the Olympic champion in the semi-finals of the German Open a week ago and will be out to repeat the trick on the biggest stage of them all.
Axelsen managed to account for Chou Tien Chen in straight games while Lakshya went the distance and longer in a draining clash with Lee Zii Jia.