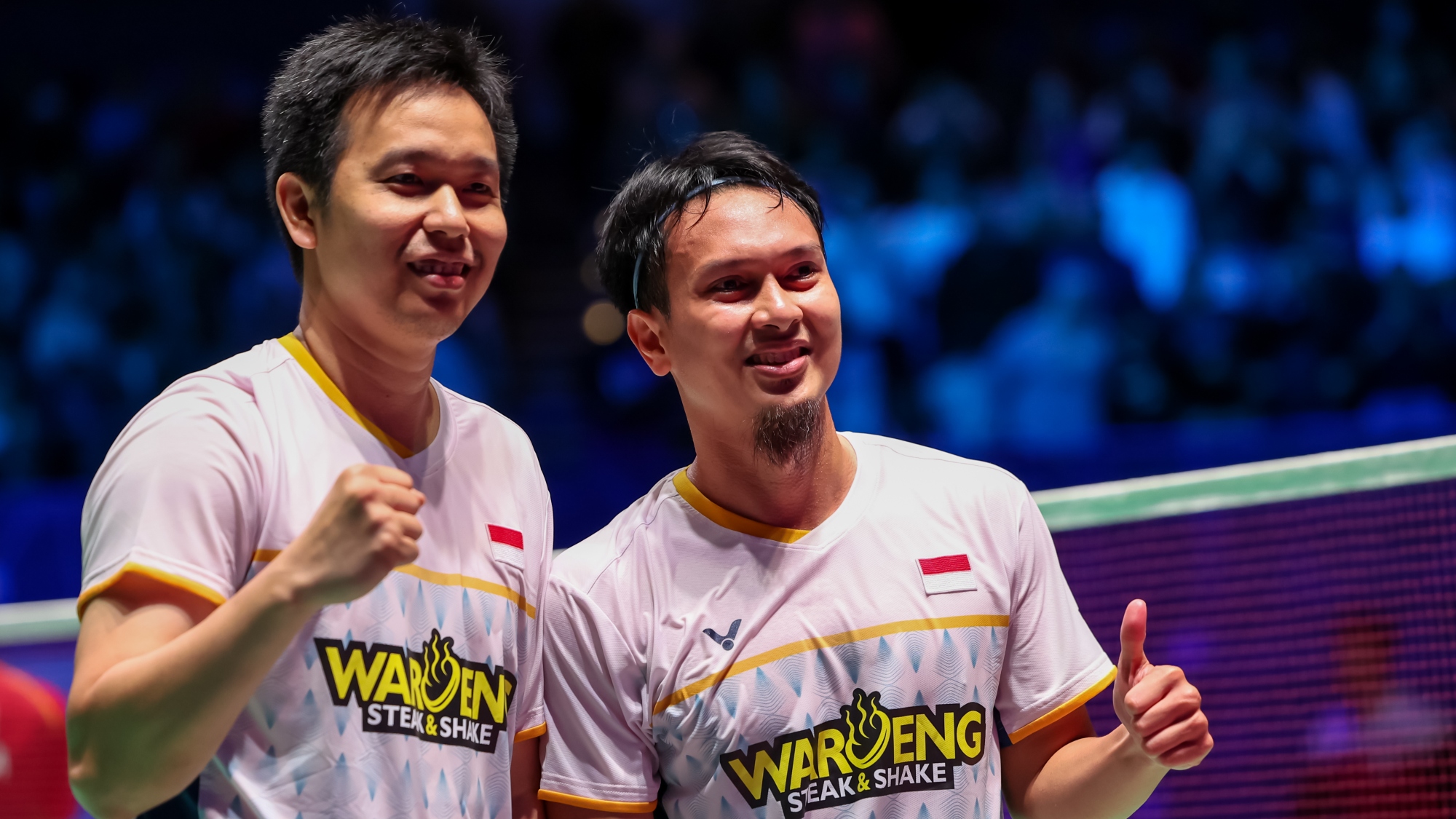 THE FINAL COUNTDOWN: In-depth look at Sunday's five battles
The line-up for the 2023 YONEX All England finals is set and an intriguing day of badminton awaits.
Here's what to expect from Sunday's five matches where our champions will be crowned.
Women's doubles: All-South Korean final
South Korea have storied history in women's doubles at the All England, stretching back to the 1980s and a run of six straight title victories from 1986 to 1991.
The next chapter will be written in 2023 as Olympic bronze medallists Kim So Yeong and Kong Hee Yong grapple with underdog compatriots Baek Ha Na and Lee So Hee.
Baek is six years younger than Lee and Kim is four years older than Kong, which will make for intriguing dynamics on court.
The pairs met at last week's German Open with Baek and Lee taking victory in two games despite being 14 places lower in the world rankings.
Baek and Lee broke out with victory at the 2019 Denmark Open but have never won a senior Championship medal or a Super 1000 title. They now have their golden chance.
Mixed doubles: China clear favourites
All five finals will be decided by fine margins but China's Zheng Si Wei and Huang Ya Qiong in particular are in a great position to capture yet another major title.
They face South Korea's Seo Seung Jae and Chae Yu Jung, who Zheng and Huang have beaten in all seven of their previous meetings, including en route to Olympic silver in Tokyo.
Zheng's incredible strength and court coverage and Huang's stability make them an irresistible force. They have won three world titles together and won the 2019 All England.
Zheng and Huang will also be motivated by near misses, losing in the 2018 final and beaten by eventual winners Yuta Watanabe and Arisa Higashino in last year's thrilling semi.
Seo is one of a handful of players to compete in two disciplines here, going out in the first round of the men's doubles with Kang Min Hyuk.
That may have helped his title charge here and their three-game win over Dechapol Puavaranukroh and Sapsiree Taerattanachai was particularly impressive.
Women's singles: Intriguing heavyweight clash
The Olympic champion plays one of the hottest properties in the sport in a battle of nagging pressure against practical mastery.
Just make sure you've got popcorn at the ready for the women's singles final.
China's Chen Yufei has beaten South Korea's An Se Young in eight of their ten meetings but they have split the last four, a reflection of the chemistry of this rivalry.
Fourth seed Chen is oft-overlooked but she hasn't dropped a set at this All England so far, one of the only players at the whole tournament to do so.
Akane Yamaguchi credited her ability to establish control and keep hold of it for the shocking result of the semi-final.
An Se Young has shaken up the status quo in women's singles in the past year, ever since making the 2022 All England final. A win here would be the most seismic moment yet.
Men's doubles: All-Indonesian final
It's the final that so many people dreamed of and predicted.
The Daddies face the new kings of the men's doubles castle, Fajar Alfian and Muhammad Rian Ardianto. Hold onto your hats!
For one, Indonesia are guaranteed to take home another All England title, an unbroken run in tournaments they have participated in that goes back to 2016.
We're running out of words for Hendra Setiawan and Mohammad Ahsan, with the amazing statistic of international finals in 22 consecutive years paying testament to these two.
It's hard to imagine this won't be decided in three games, with the Daddies winning three and Alfian/Ardianto two of their meetings so far. It's going to be unmissable.
Men's singles: All-Chinese final
Not since the days of Lin Dan have China stood so tall in men's singles, and now they are guaranteed to reclaim the crown for the first time in five years.
Few would have predicted that Shi Yu Qi, 27, and 23-year-old Li Shi Feng would be the last two standing but both have put in tenacious performances to earn their final spots.
Shi Yu Qi commands the universal respect of his rivals, an attacking force with a strong all-round game. He won the All England in 2018 and is now in an intriguing second phase of his career.
Li Shi Feng is called the 'right-handed Lin Dan' – not a bad compliment – and needs some massive tournament wins to back up all the hype. His win over Anders Antonsen was a great start, and lifting the All England trophy would be another step on the road to greatness.
Receive championship updates, news and ticket information via the sign-up link on allenglandbadminton.com.