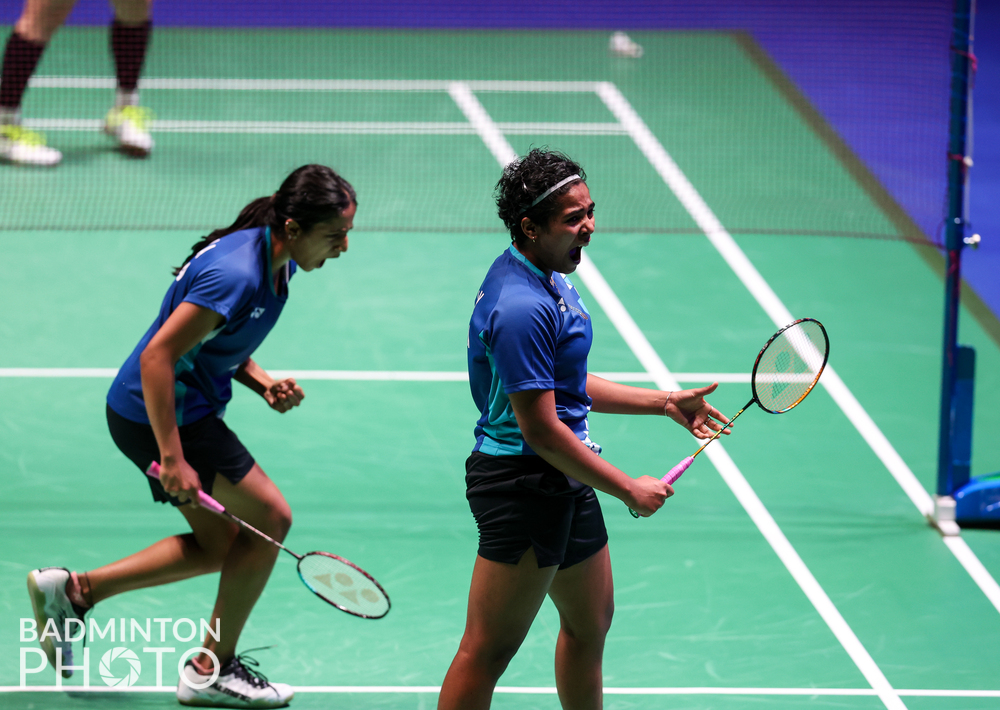 Thrills and spills in doubles disciplines at YONEX All England
All three pairs of Tokyo Olympic medallists have succumbed before the semi-finals and Japan's Nami Matsuyama and Chiharu Shida are the only seed still standing in the final four.
Opening day saw Olympic silver medallists Chen Qingchen and Jia Yi Fan make an early exit and then gold medallists Apriyani Rahayu and Greysia Polii due to the latter's leg injury
The biggest bolters of the lot has been China's Liu Xuan Xuan and Xia Yu Ting, who have reached a Super 1000 semi-final in their second tournament together. Their nominal world ranking is 276.
They used the power of the unknown to account for Thai eighth seeds Jongkolphan Kitithakarakul and Rawinda Prajonjai in a see-saw encounter that finished 19-21 21-18 21-16.
Liu and Xia would have expected to run into second seeds Lee Sohee and Shin Seungchan in the semi-finals – but nothing has gone to form in this year's All England.
The South Koreans were stunned by India's world No.46s Gayatri Pullela and Treesa Jolly 14-21 22-20 21-15.
"We didn't expect to be in the semi-finals," said Jolly. "We just tried to give our best."
Pullela's father Gopichand was the last Indian player to win here when he took the men's singles title in 2001.
'They're one of my favourite pairs so to play against them was unreal," she said. "I'm super happy."
There will be South Korean representation in the semi-finals, albeit not from the pair many expected. Jeong Na Eun and Kim Hye Jeong won the battle of the unseeded quarter-finalists.
The pair only played two tournaments in the entirety of 2021, both in November's Bali swing, reaching the final of the Indonesia Open and then next appearing at last week's German Open.
Jeong and Kim beat Malaysia's Pearly Tan and Thinaah Muralitharan in another game that went to the deciding rubber and ended 15-2, 21-17, 21-9.
The only seeded pair who have managed to navigate through the mess of the draw have been Matsuyama and Shida, who dominated the third seeds 21-10, 21-18.
The opposite dynamic has emerged in mixed doubles where the favourites have all delivered.
Thai top seeds Dechapol Puavaranukroh and Sapsiree Taerattanachai haven't been remotely challenged in their first three games and they dispatched French duo Thom Gicquel and Delphine Delrue in 37 minutes.
Reigning champions Yuta Watanabe and Arisa Higashino demolished compatriots Kaneko and Matsutomo in even quicker.
Olympic silver medallists Zheng Si Wei and Huang Ya Qiong downed the Malaysian seventh seeds 21-15, 21-15.
The YONEX All England Open Badminton Championships return to Utilita Arena Birmingham with the best players from around the world from 16th – 20th March 2022.
Don't miss out, get your tickets today.