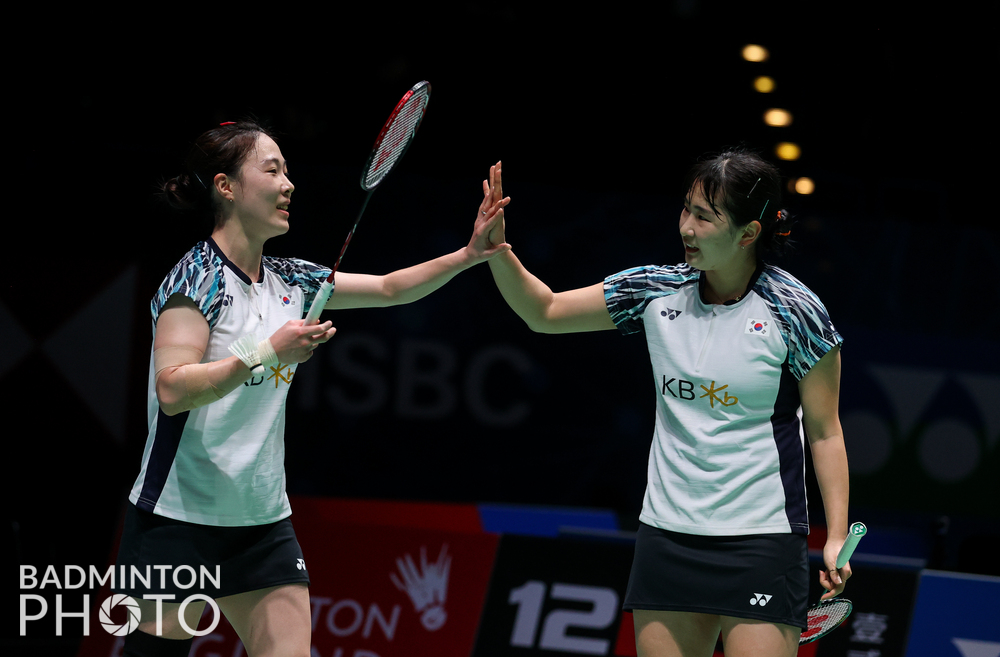 Top seeds crash out on opening day at YONEX All England Open
Top seeds and newly-crowned world champions Chen Qing Chen and Jia Yi Fan crashed out on a big day of shocks in women's doubles at the YONEX All England Open.
Jia Yi Fan was heavily strapped, seemingly carrying an injury, with both struggling physically on the back of a one hour 47-minute final at last week's German Open.
That opened the door for world No.64 pairing Jeong Na Eun and Kim Hye Jeong – who only played at two tournaments in the entire of 2021 – to claim a dominant 21-15 21-16 victory.
"I was nervous but we wanted to play without pressure," said Jeong.
"I wasn't aware of (Yi Fan's injury) at first but halfway through the second set, I realised she wasn't in good form. The aim then was just not to make any mistakes."
🚨UPSET ALERT🚨

South Korean pair Jeong/Kim beat the number 1 Women's Doubles seeds Chen/Jia! 🇰🇷 pic.twitter.com/0JefNXDpBq

— 🏆 Yonex All England Badminton Championships 🏆 (@YonexAllEngland) March 16, 2022
The draw was further blown apart when 2020 winners Yuki Fukushima and Sayaka Hirota were dumped out in the very first match on Court 1.
Fukushima and Hirota – who was returning to the court for the first time after ACL surgery – slid to defeat in a three-game, 90-minute slugfest.
The new Chinese pairing of Zhang Shu Xian and Zheng Yu, who made their World Tour debut at last week's German Open, ran out 21-19 11-21 21-11 victors over the Japanese fourth seeds.
"Even with (Hirota)'s injury, they are very competitive and we were just trying to challenge them," said Zheng.
"These are the first few matches we've played together so maybe our opponents are not familiar with us. We need to learn from all these matches and try to improve as we go."
In the pick of first round contests across the board, Anders Antonsen announced his intentions by knocking out man of the moment Loh Kean Yew.
The Danish world No.3 prevailed 21-15 18-21 21-13 in an instant classic running well past the hour mark, with the precision of his play proving too much for the Singaporean.
"I needed to be prepared for his speed," said Antonsen. "My last match was against Loh, so it was fun to get another chance at beating him. I was eager to get out there and played a fine match."
"Shot of the day for me so far"🎙️

Pure sauce from Loh Kean Yew! 🇸🇬 pic.twitter.com/5ik9RXiyu2

— 🏆 Yonex All England Badminton Championships 🏆 (@YonexAllEngland) March 16, 2022
Loh Kean Yew, who won the world title five months ago, said: "My luck with the draw has never been the best, so I'm used to it! He made no mistakes in the third and kept up the pressure."
Olympic champion Viktor Axelsen gradually moved through the gears to see off Sai Praneeth 22-20 21-11.
The Danish star's aim this week will be to reclaim the title he won in 2020 and avenge last year's final defeat.
"It feels great to be back and to see all the fans back in the stands," said Axelsen.
"I have great memories from here now, it's one of the biggest tournaments of the year and one of my biggest dreams coming true to win it. Hopefully I can try to do that one more time.
"There is this vibe here, this atmosphere, that is really special. There is a lot of history at this tournament and every player wants to win it really bad."
Elsewhere, PV Sindhu laid down a hefty marker in women's singles as an ultra-aggressive approach paid dividends with a win over Wang Zhi Yi.
The Indian megastar went on the attack from the start and her bid for a first All England title started with a 21-18 21-13 victory in 42 minutes.
Deft touch 🏸 @Pvsindhu1 eases into the next round 21-18 21-13 🇮🇳 pic.twitter.com/ukJdPZzde6

— 🏆 Yonex All England Badminton Championships 🏆 (@YonexAllEngland) March 16, 2022
Sindhu has twice reached the semi-finals at the event, including last time out, and will be hard to stop on this form.
"I felt maybe in the first game I should have controlled my mistakes a bit and I gave her some easy points," said Sindhu.
"The shuttles sometimes were going to mid-court so I had to attack them. It was important for me to attack. It's important to have a good match first up because it gives you confidence."
Sindhu's fellow top seeds were totally untroubled with world No.1 Tai Tzu Ying beating Lianne Tan 21-12 21-14 and world champion Akane Yamaguchi pushing past Kristin Kuuba 21-13 21-13.
Ukraine's Maria Ulitina made an unexpected and emotional appearance in the women's singles draw
Both top Indonesian men's doubles pairings progressed as the 'Minions' and the 'Daddies' claimed contrasting victories.
Marcus Fernaldi Gideon and Kevin Sanjaya Sukamuljo began their bid for a third All England title with a convincing 21-12 21-18 triumph over Lucas Corvee and Ronan Labar.
The second game was disrupted after a leak in the roof at Utilita Arena Birmingham, but the world No.1s were undeterred.
Mohammad Ahsan and Hendra Setiawan needed a deciding rubber to seal progress and prevailed 15-21 21-12 21-18 over India's M.R Arjun and Dhruv Kapila.
"We moved too slow in the first set, but in the second and third we tried to attack first." 💪

Ahsan & Setiawan reflect on a tough first match at YONEX All England 2022 🇮🇩 pic.twitter.com/UQLyDa1Fuk

— 🏆 Yonex All England Badminton Championships 🏆 (@YonexAllEngland) March 16, 2022
There was a landmark victory for English Olympians Ben Lane and Sean Vendy, who came through a tight second game to beat new Malaysian pairing Tan Kian Meng and Tan Wee Kiong.
Some of the biggest cheers of the day were reserved for England's Marcus Ellis and Lauren Smith who opened up with an entertaining win over Indonesia's Rinov Rivaldy and Pitha Haningtyas Mentari.
The world No.9 pair have reached the semi-finals at the last two editions of the All England and rode the wave of raucous home support to triumph 21-17 21-19 in the first round.
The YONEX All England Open Badminton Championships return to Utilita Arena Birmingham with the best players from around the world from 16th – 20th March 2022.
Don't miss out, get your tickets today.