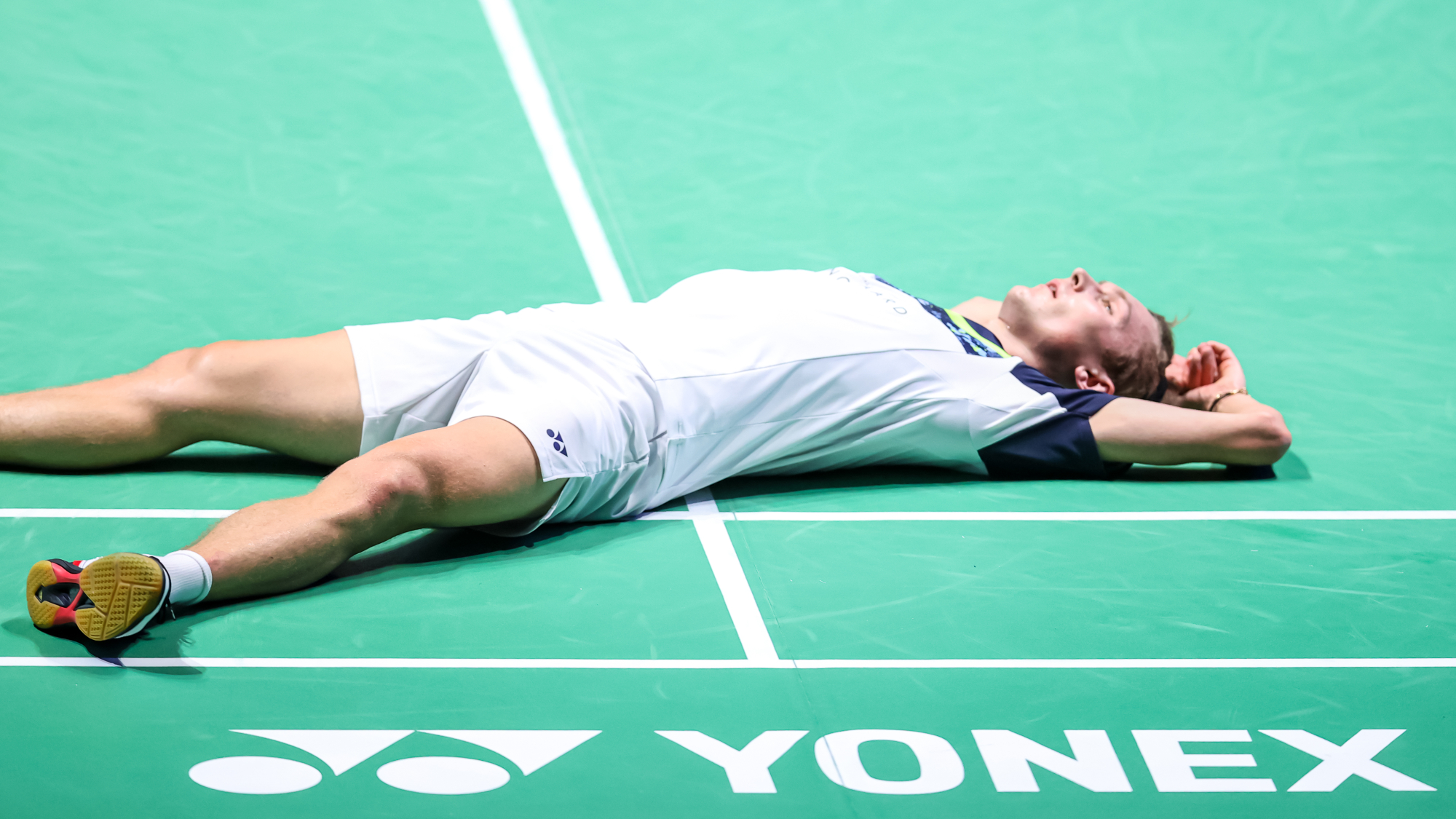 Viktor Axelsen does it again at YONEX All England
Viktor Axelsen is the king of the All England once again and this time his queens was in the stands, meaning his second title meant more than the first.
The world was in a very different place when the great Dane ruled over Birmingham for the first time, with the dark cloud of COVID beginning to cloak our consciousness.
Axelsen rushed through a deserted media area and practically straight onto a plane home two years ago, with lockdown descending days later.
This time he was able to share victory with thousands of strangers and the two people who matter most, with partner Natalia and daughter Vega in attendance at the Utilita Arena Birmingham.
"It feels phenomenal," said Axelsen. "At the Denmark Open, I really realised how much it meant to me seeing her in the stands after my win.
"Today was something extra special. She is running around in her YONEX skirt and she can understand that her Dad is running around on the court.
"My fiancée Natalia has done an incredible job again this week looking after her and I owe her a lot."
Since Vega's birth in October 2020, Axelsen has won Olympic gold and now seven BWF World Tour titles. Fatherhood seems to be bringing the best out of him on and off the court.
"You have to find balance, you have to really grow up," he said. "That can help you at certain times. When you meet hardships, there is always a happy girl at home which helps you a lot."
Axelsen was unhappy that he had seven hours fewer to recover than final opponent Lakshya Sen.
But it seemed that the Indian was drained coming into the big one having edged out Lee Zii Jia in an emotional, 86-minute semi-final clash on Saturday.
Axelsen hasn't come close to dropping a set in Birmingham, stepping up significantly in physical and mental intensity from the German Open last week.
Sen beat the world No.1 in Muelheim but barely laid a glove on him in the final, soundly beaten 21-10 21-15 defeat and learning a hard lesson in what it takes to stay at the top.
"I'm super happy," said Axelsen. "When I started playing badminton, I never dreamt of winning two All England titles and I still have a lot of years in me hopefully.
"The atmosphere was absolutely amazing today. Lakshya is a great player, a young guy and I know him well. I wish him all the best and I hope we have many more battles in the future."
We welcomed fans back to the YONEX All England Open Badminton Championships this year. Now we want to welcome you back onto court. For more information and to find a court near you, visit: The Time is Now | Badminton England