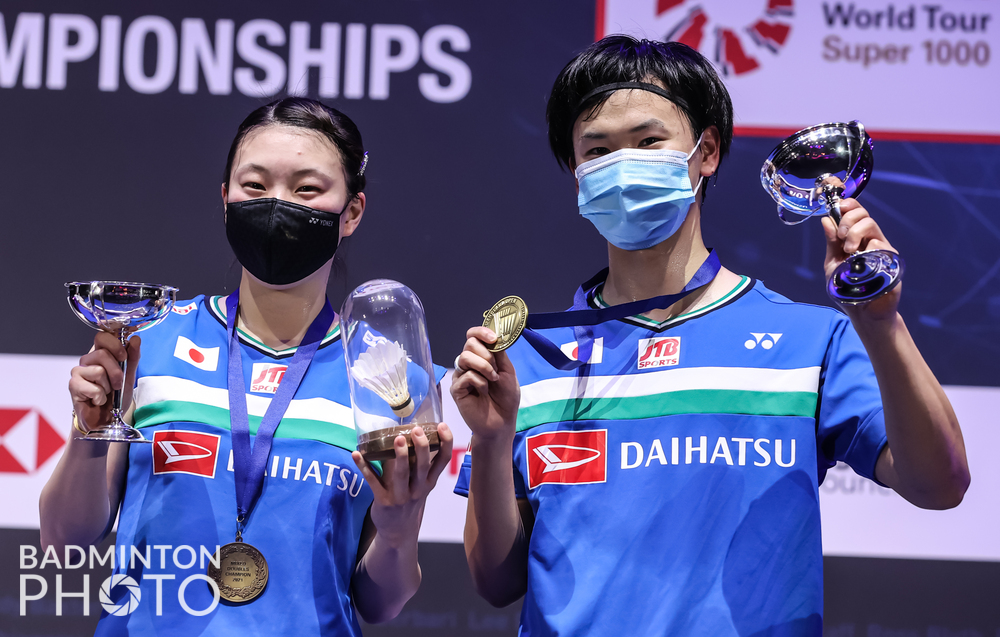 Watanabe and Higashino descend on Denmark Open
Japan's Yuta Watanabe and Arisa Higashino return to the Super 1000 stage for the first time since winning the YONEX All England Open at this week's VICTOR Denmark Open.
The pair's incredible season began by lifting the mixed doubles trophy at Arena Birmingham, beating compatriots Yuki Kaneko and Misaki Matsutomo 21-14 21-13 in the final.
It was their second triumph at the event, which they won in 2018.
Watanabe and Higashino, who went to the same high school and have a close friendship, took bronze together at their home Olympics in Tokyo.
Having also both represented Japan at the Thomas & Uber Cups and the Sudirman Cup, they take fourth seed in the mixed doubles draw at Odense Sports Park.
They will likely vie for the Super 1000 spoils with China's Olympic silver medallist Wang Yi Lyu and Huang Dong Ping, who are seeded first.
Also expected to challenge will be 2020 YONEX All England mixed doubles winners, Indonesia's Praveen Jordan and Melati Daeva Oktavianti, who will hope to give their season a shot in the arm.
Indonesia's best male players will hope to harness the momentum from their first Thomas Cup victory in 19 years.
Singles stars Anthony Ginting and Jonatan Christie's aim will be to continue their fine form and their three ace doubles pairings will all have designs on victory.
China's women lifted the Uber Cup, and combined successfully with their men to take the Sudirman Cup too.
Olympic champion Chen Yufei leads the women's singles draw, as do doubles pairing Chen Qing Chen and Jia Yi Fan.
The YONEX All England Open Badminton Championships return to Utilita Arena Birmingham with the best players from around the world from 16th – 20th March 2022. Don't miss out, get your tickets today.