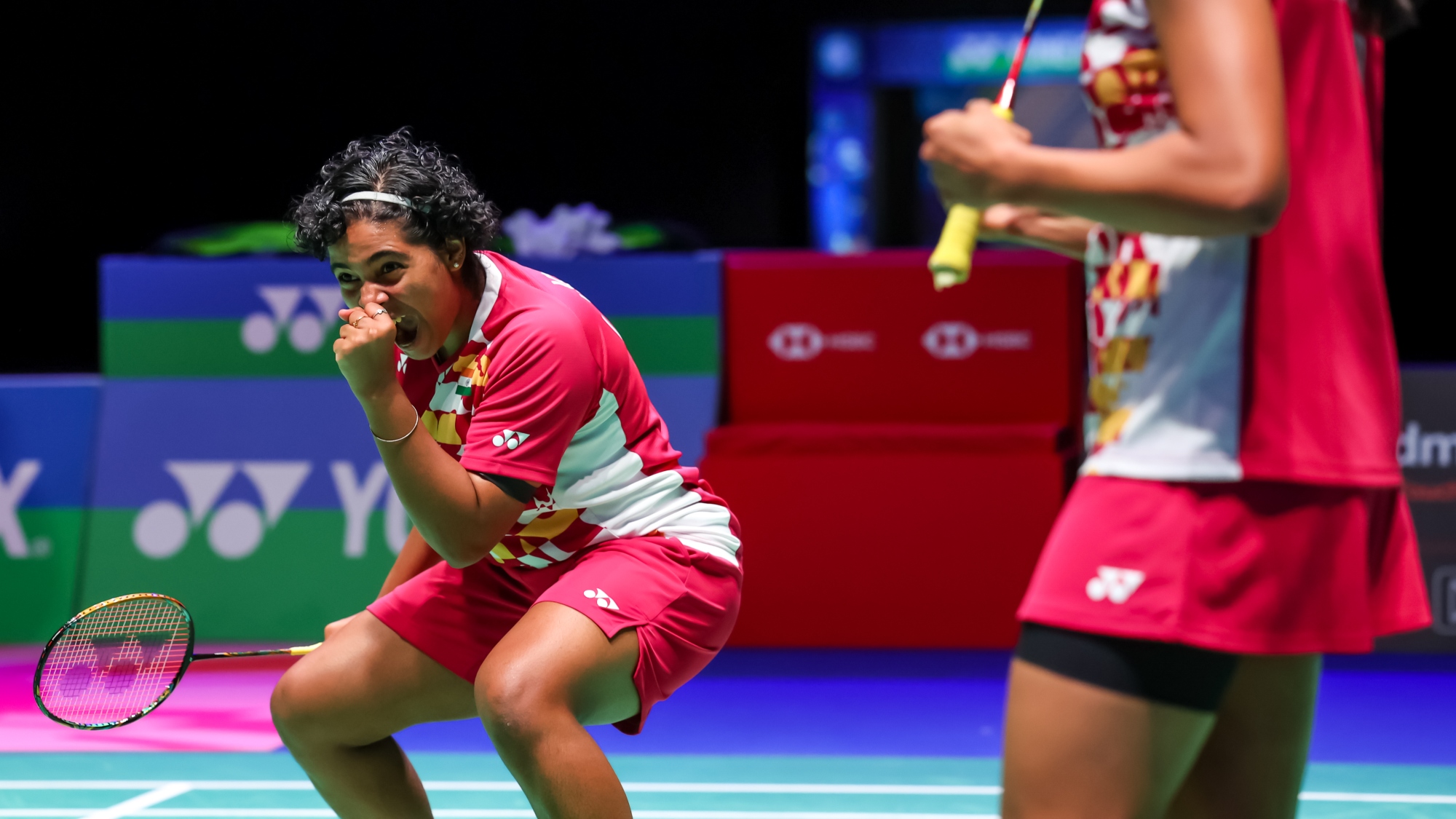 "We're here for the title": Jolly and Gopichand shake up women's doubles
'Frenzied', 'relentless', 'blazing' – whichever adjective you use, Treesa Jolly and Gayatri Gopichand are keeping badminton fans on the edge of their seats
And it's producing results, a semi-final spot for the second year running at the YONEX All England, the world's oldest and most prestigious badminton tournament.
19-year-old Jolly and Gopichand, barely out of her teens, are flying the flag alone for India as we head into the weekend in Birmingham.
"It's overwhelming, I have no words," said Gopichand. "We are proud and so happy to reach this stage, it's like a dream come true."
Jolly said: "We're really proud when we go on court and the crowds are supporting us. It's a proud moment for us every time."
Last year they surprised themselves in reaching the final four, where they went down in two sets to China's Zhang Shu Xian and Zheng Yu.
Since then the game has changed. They collected Commonwealth bronze in this city last summer and have their first BWF World Tour tournament wins under their belt.
"Last year was a little different, we just came for experience and to give our all," said Gopichand.
"Coming into this year, I definitely wanted to win. We came here for the title."
On Friday they were ruthless in the rubber against China's Li Wen Mei and Liu Xuan Xuan.
They won the first 21-14 and recovered from being pegged back 21-18 in the second, romping through the decider 21-12.
"It was a tough match, definitely. We were leading the second set but they caught up. It happens. We were 11-4 up and we managed to keep that lead," said Gopichand.
Key to their success is that striking on-court style, with Jolly in particular seeking to disrupt opponents with her clever stroke play.
Quarterfinals underway as Jolly/Pullela 🇮🇳 take on Li/Liu 🇨🇳.#BWFWorldTour #AllEngland2023 pic.twitter.com/vxAeANNq3M

— BWF (@bwfmedia) March 17, 2023
"(To attack) is normal for me. My style came as soon as I started playing. If I play singles, I always smash and it came naturally with my flow," she says.
"I know I take risks to win the points and focus on attack."
Gopichand is no stranger to scrutiny or pressure, being the daughter of Pullela, All England champion in 2001, and champion women's singles star PVV Lakshmi.
"There's no pressure," she insists. "They don't say, 'you have to win the tournament,' they want me to go out there and have fun and that's what I'm doing."
Tickets for the 2023 YONEX All England Open Badminton Championships are on sale now. Click here to find out more.